A Waterhouse Model Discovered
By Scott Thomas Buckle
There has been much speculation into the identity of the models used by the artist John William Waterhouse. Whilst the focus had primarily been upon the female faces and figures that populate his pictures, research that I conducted in 2005 introduced the name of a well-known Victorian male model to feature within Waterhouse's oeuvre.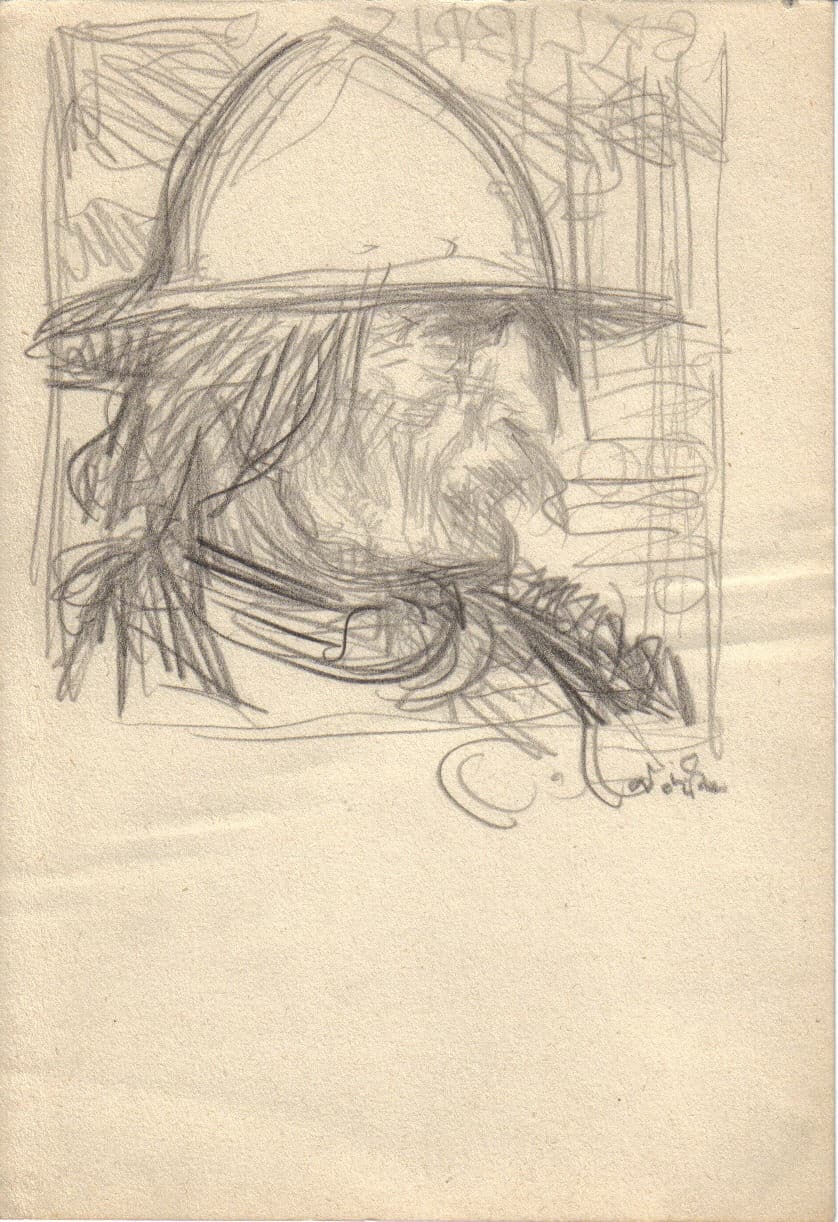 Attributed to Sir Frank Brangwyn
Head of an old warrior
Pencil on paper
Private Collection (Scott Thomas Buckle)
My investigation began with a drawing that I purchased in 2004. The unattributed sketch was described as 'The head of an old Hussite warrior' and was sold by an art dealer in Prague, who had found it within a folio of loose prints and drawings by various artists. My initial thought was that the drawing might be by John William Waterhouse, although subsequent research has led me to believe that it may actually be by Sir Frank Brangwyn.
The sketch bears two inscriptions, one at the top and one at the bottom of the sheet. The lower inscription may have misled previous owners of the drawing that it was the signature of the artist. I recognised that the name, albeit misspelled, was that of the celebrated model Colarossi, an Italian who had settled in London in the middle of the 19th Century and posed for some of the greatest Victorian artists.
Angelo Colarossi was born in the city of Naples in 1839, but soon found himself part of a community of fellow countrymen whose classical looks made them sought-after models for leading British artists of the day. Amongst the better-known Italian models working in London were Gaetano Meo, who modelled for Simeon Solomon, Rossetti, Burne-Jones, Alma Tadema and Lord Leighton as well as becoming a studio assistant to Sir William Blake Richmond; Domenico Mancini, who is known to have posed for G F Watts, Blake Richmond, Alma Tadema, Sargent, Draper and Holman Hunt; and Alessandro di Marco whose athletic build was favoured by Blake Richmond and Burne-Jones (he also modelled for Waterhouse in his 1877 painting of A Sick Child Brought into the Temple of Aesculapius). Colarossi, however, seems to have been even more in demand. He was the model for Lord Leighton's bronze An Athlete Wrestling with a Python and led the artist to refer to him as 'his favourite Italian model, a man of splendid physique'. Edwin Austin Abbey introduced the model to John Singer Sargent who used him for some of the figures in his murals in the Boston Library. Sir John Everett Millais depicted him as the old Genoese sailor in his 1870 painting of The Boyhood of Raleigh in the Tate Collection. He is also known to have sat to Burne-Jones, George Frederic Watts, Frederick Sandys, William Hamo Thornycroft, Francis Davis Millet, Herbert James Draper, Edmund Blair Leighton and George Howard, the Ninth Earl of Carlisle. For a long time it was thought that Colarossi featured as the model for an 1867 photograph by Julia Margaret Cameron entitled Iago, Study from an Italian, but I presented new evidence in an article that I wrote for the British Art Journal in 2012 to suggest that Alessandro di Marco was in fact the model for the photograph.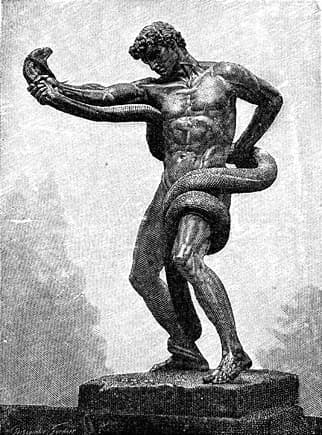 An Athlete wrestling with a Python, 1877
An engraving by W. Biscombe Gardner of Lord Leighton's bronze.
Reproduced in The Magazine of Art, 1878.
Colarossi's son, also named Angelo, was studio boy to the sculptor Alfred Gilbert and modelled for his most famous statue Eros (1891) in Piccadilly Circus. Gilbert studied alongside Waterhouse at the Academy schools and his statue of An Offering to Hymen exhibited at the Grosvenor Gallery in 1886 appears to have influenced Waterhouse's Circe Invidiosa of six years later. Whether the younger Colarossi ever posed for Waterhouse remains to be investigated – the boy apparently never grew beyond five feet tall – so he could conceivably be the model for one of the youths that feature in Waterhouse's paintings of the early 1890s. Both father and son posed for Leighton's monumental canvas And the sea gave up the dead which were in it (Tate Collection). Isabel McAllister in her 1929 biography of Gilbert mentions that young Angelo was also nephew to the great Colarossi who made such an impact with his Paris academy. If this is correct, then we must surmise that Angelo senior was brother of Filippo Colarossi, manager of the famous Académie Colarossi, whose students included Camille Claudel, Amedeo Modigliani and Alphonse Mucha. As well as modelling for Victorian artists in Britain, Colarossi is said to have posed for Jean-Léon Gérôme, the French artist whom Waterhouse is known to have admired, as well as for Jean-Baptiste Carpeaux, who, like Gerôme, shared Colarossi's taste in later life, for large moustaches.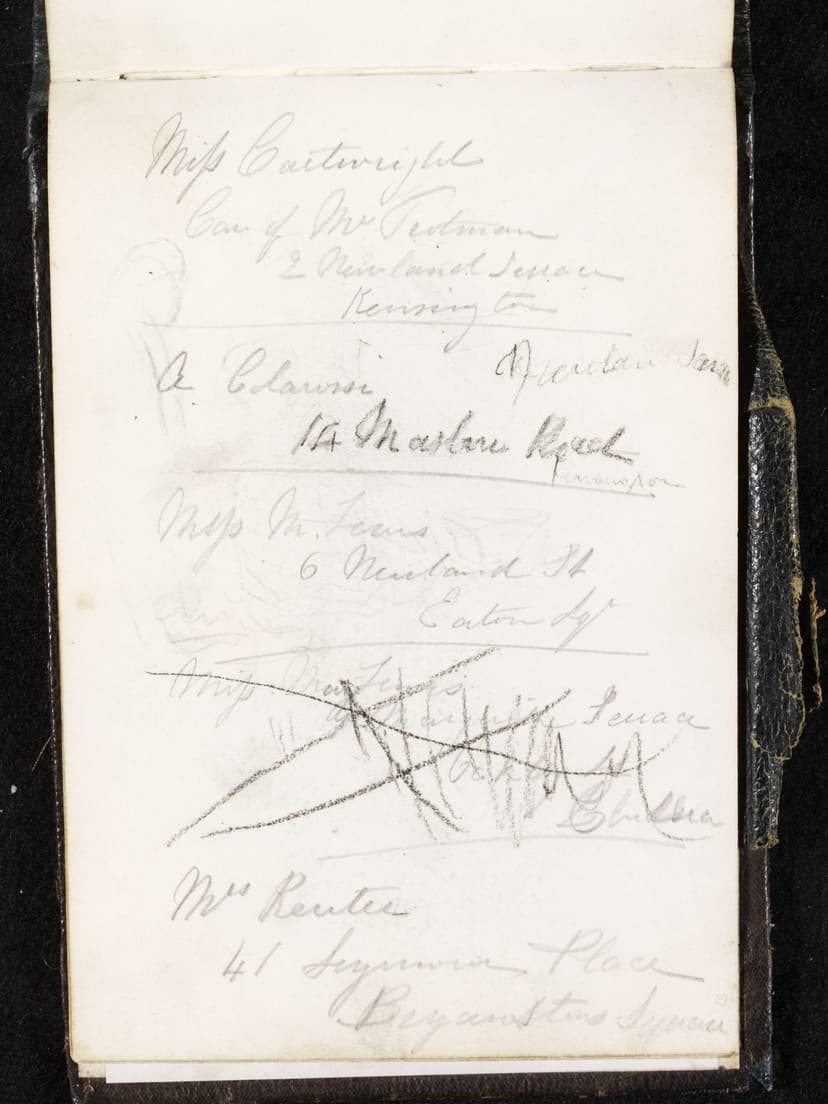 John William Waterhouse
Page with models' addresses
Sketchbook E.1109-1963
Victoria and Albert Museum, London
My first thought was that the unattributed sketch that I bought could be by Waterhouse. There was no published literature linking Waterhouse directly to the Colarossi family, so I decided to investigate further by examining some of the artist's sketchbooks at the V&A. These were donated by Waterhouse's great nephew, John Physick, who used to work at the museum. One of the sketchbooks (E.1111-1963) is of identical size to the Colarossi drawing and many of the sketches within it are so vigorously worked that off-prints of the most heavily defined areas of pencil appear upon the opposing pages. The mysterious inscription at the top of the Colarossi drawing – the words 'EX LIBRIS' written in reverse – had been similarly imprinted from a facing sheet inscribed in heavy pencil. I discovered that the V&A sketchbook contains a preparatory sketch for Echo and Narcissus, inscribed with the names and addresses of two models. The first, 'Beresford', of '19 St Olaf's Road, Fulham', can be found in the 1901 Census lists as 'Henry Beresford', a 21 year old whose profession is given as 'Artist's Model'. Simon Toll confirmed the identification of the model for Narcissus in his Herbert Draper monograph, but gave no source for the information. He also mentioned that Harry Beresford was the model for Draper's The Youth of Ulysses, a painting which features another Waterhouse model Mary Lloyd. The second name beside the Echo and Narcissus sketch in the V&A sketchbook (and seemingly unrecorded in any published literature on Waterhouse) is a 'Miss Bantock'. Her address in Westville Road, Shepherds Bush is located one street away from that of Colarossi's lodgings as detailed in the 1901 Census, suggesting that the Italian may have been in some way instrumental in arranging her sitting to Waterhouse for the figure of Echo.
Another of the V&A sketchbooks (E.1109-1963) contains a page with further names and addresses, including 'A Colarossi, 14 Masbro Road, Kensington' – a location not far from the studios of Leighton, Watts and other artists that were part of the Holland Park Circle. Another page gives the name and address of 'Miss Kate Double', also of Shepherds Bush, who is known to have posed for Whistler. The sketchbook appears to date from early on in Waterhouse's career, as most of the sketches contained within are related to themes and objects of Roman antiquity, and the pages are watermarked with the date 1872. One may assume then that Colarossi would have posed for Waterhouse during his 'classical' period, and this seems to be borne out by his appearance in the background of the 1883 painting The Favourites of the Emperor Honorius (Art Gallery of South Australia, Adelaide).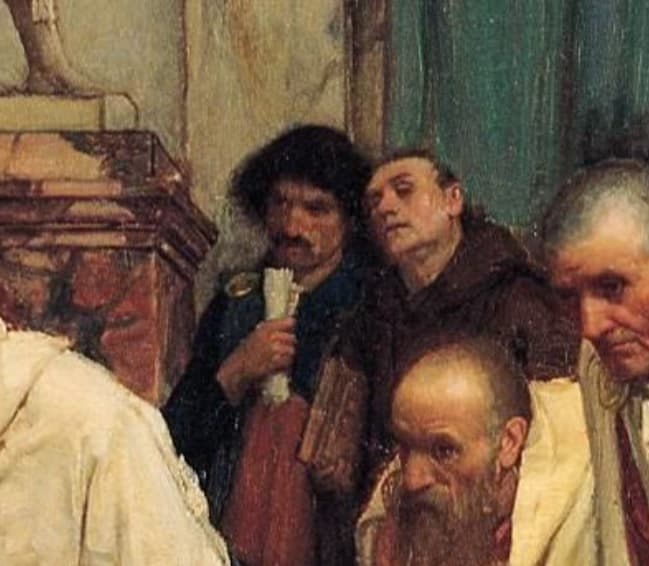 John William Waterhouse
The Favourites of the Emperor Honorius (detail), 1883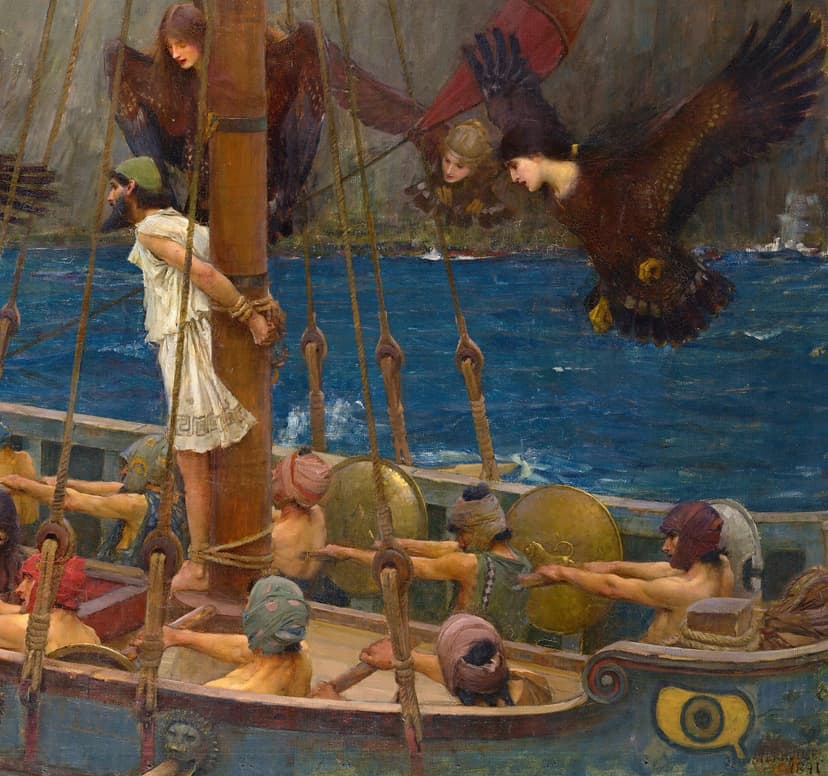 John William Waterhouse
Ulysses and the Sirens (detail), 1891
It is not known for certain how Waterhouse was first introduced to Colarossi. It is most likely that the artist encountered the model when he posed for life classes at the Royal Academy schools. Other models may have been found in the same way, or possibly through the recommendation of fellow artists. In later years, Colarossi appears to have spent a considerable stint as a galley slave aboard various vessels in Herbert Draper's paintings, becoming a little typecast by his appearance, so one wonders whether he may have also rowed for Waterhouse in his Ulysses and the Sirens of 1891? Sir Frank Dicksee produced a painting in 1893 called A Viking's Funeral (Manchester City Art Galleries), the central figure of which bears some similarity to the Colarossi drawing and may have been an influence. A photograph of Colarossi in later life was illustrated in an article in Picture Post, published posthumously in 1947, showing the same moustache and distinctive features that appear in the sketch. Colarossi had died back in 1916, a year before Waterhouse's own death – both men probably quite aware by then that the art movement that they were part of was already becoming a thing of the past.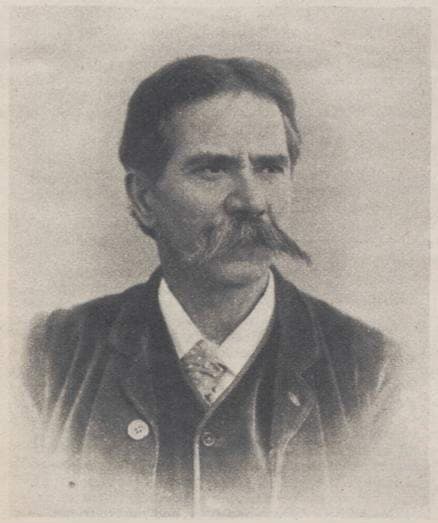 Photograph of Angelo Colarossi
(Italian, 1839-1916)
Subsequent to publishing my findings in 2005, I came across a portrait sketch of the Japanese businessman and art collector Kojiro Matsukata by Sir Frank Brangwyn, which made me reconsider the attribution of the Colarossi sketch, as it seemed to be by the same hand. Much younger than Waterhouse, Brangwyn had a successful career working in different media, frequently exhibiting at the Royal Academy and the Paris Salon, but is perhaps best known for his work as a muralist. Brangwyn became a Royal Academician two years after Waterhouse's death, his work more in tune with the evolving art world of the post-war period. His series of large panels for Skinners' Hall in the City of London, the first of which was completed in 1904, includes a figure that looks like Colarossi, situated just left of the centre of the composition and sporting a 16th century military helmet.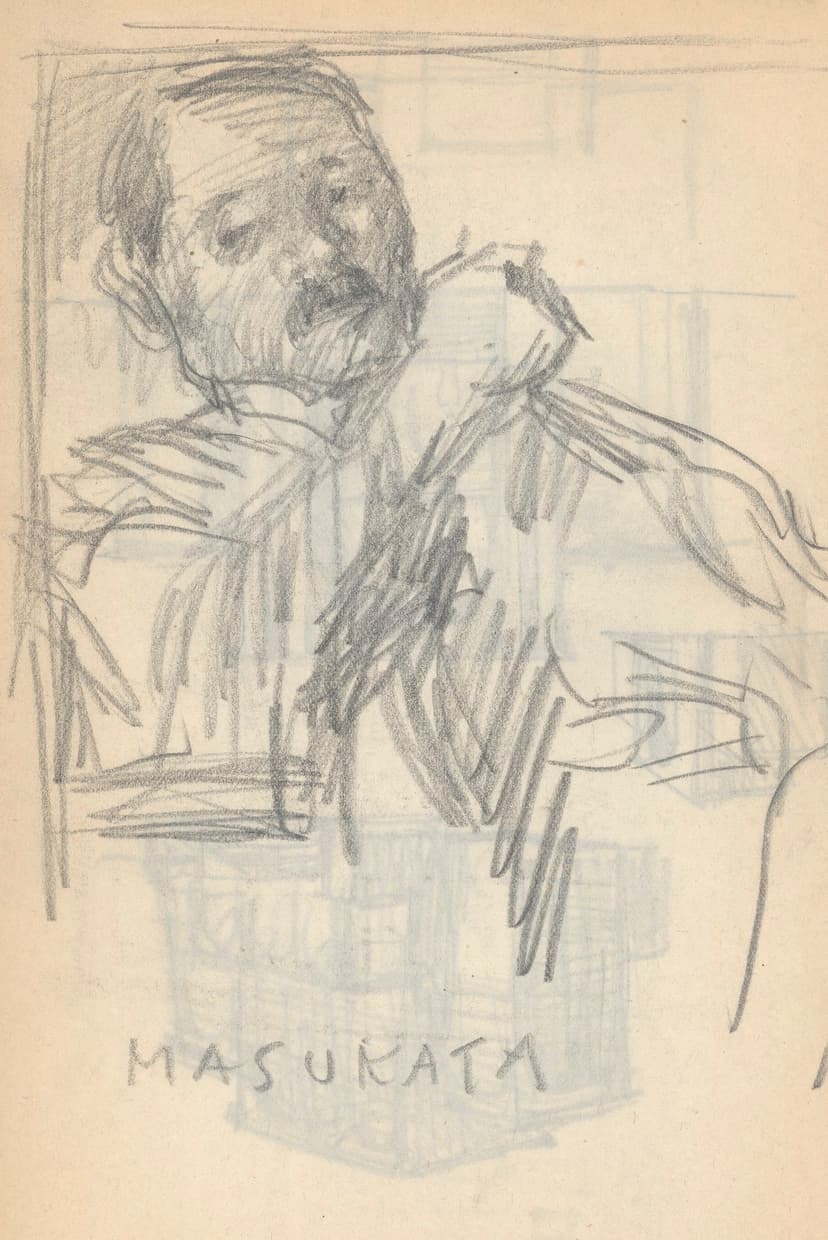 Sir Frank Brangwyn
Portrait sketch of Kojiro Matsukata
Pencil on wove paper, c. 1918
Royal Academy of Arts, London.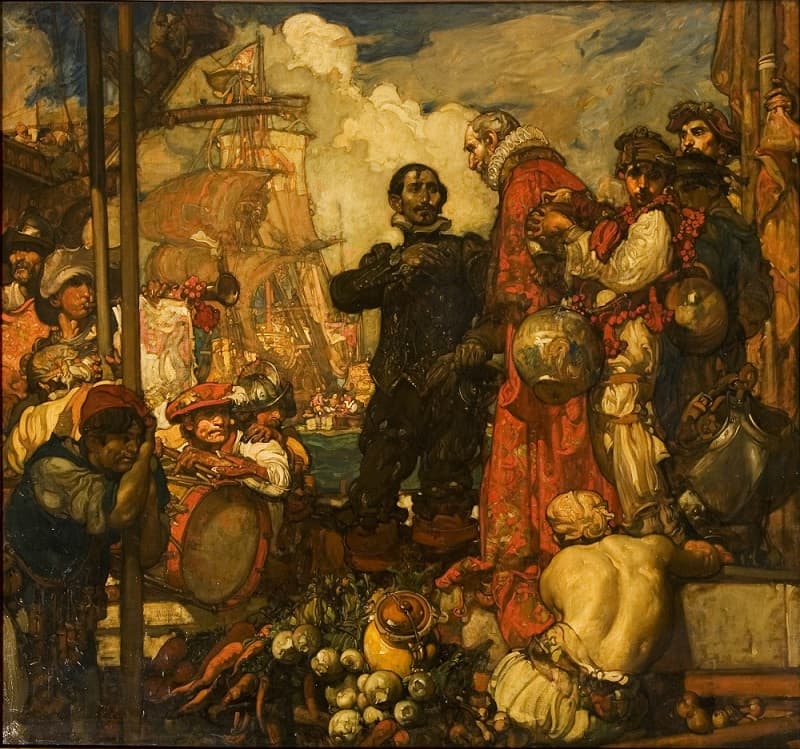 Sir Frank Brangwyn
Departure of Sir James Lancaster for the East Indies, 1594
Oil on Panel, 1904
The Worshipful Company of Skinners
Although my initial researches into the Colarossi drawing took a wrong turn, it was a fortuitous one, as it resulted in my discovering a whole host of Waterhouse models. Unlike Angelo Colarossi, however, most of them will probably remain in obscurity until someone has the time, energy and inclination to delve further into their lives.
Acknowledgement
I would like to thank Colin Ford CBE for all of his help with this article and for allowing me to plunder extensively from his invaluable researches into Angelo Colarossi and his family.
Select Bibliography
Martin Chisholm – The Man who was Eros, Picture Post, June 28, 1947

Caroline Dakers – The Holland Park Circle – Artists and Victorian Society, Yale 1999

Richard Dorment – Alfred Gilbert, Yale 1985

Richard Dorment – Alfred Gilbert, Sculptor and Goldsmith, Royal Academy of Arts, London 1986

Colin Ford – 'Mountain Nymph and 'Damnèd Villain', History of Photography, Volume 27, Number 1, Spring 2003

Anthony Hobson - The Art and Life of JW Waterhouse RA 1849-1917, London 1980

Jill Berk Jiminez – Dictionary of Artists' Models, London/Chicago 2001

Isabel McAllister – Alfred Gilbert, London 1929

Edward J. Nygren – John Singer Sargent Drawings from the Corcoran Gallery of Art, Smithsonian Institution 1993

Leonée & Richard Ormond – Lord Leighton, London 1975

Martin Postle & William Vaughan – The Artist's Model from Etty to Spencer, London 1999

Benedict Read – Leighton as a Sculptor, Lord Leighton and Leighton House – A Centenary Celebration, Apollo Magazine 1996

Simon Reynolds – William Blake Richmond – An Artist's Life 1842-1921, Norwich 1995

Mrs A.M.W.Stirling – The Richmond Papers, London 1926

Simon Toll – Herbert Draper 1863-1920 A Life Study, Antique Collectors Club 2003

Peter Trippi - J. W. Waterhouse, London 2002

Various Authors – Victorian High Renaissance – Minneapolis Institute of Arts 1979

David M. Wilson – Vikings and Gods in European Art – Moesgård Museum 1997
© StB January 2005/September 2023
Continue reading:
Ethel and Narcissus - a closer look at two of Waterhouse's models
Late in 2004, whilst looking through John William Waterhouse's old sketchbooks at the V&A, I discovered the names of several models, recorded by the artist along with details of their addresses.
Read more »
Letter to Miss Lloyd
The letter featured here, addressed by John William Waterhouse to a Miss Lloyd, comes from the private collection of Donald J. Kurtz.
Read more »