Letter to Miss Lloyd
The letter featured here, addressed by John William Waterhouse to a Miss Lloyd, comes from the private collection of Donald J. Kurtz.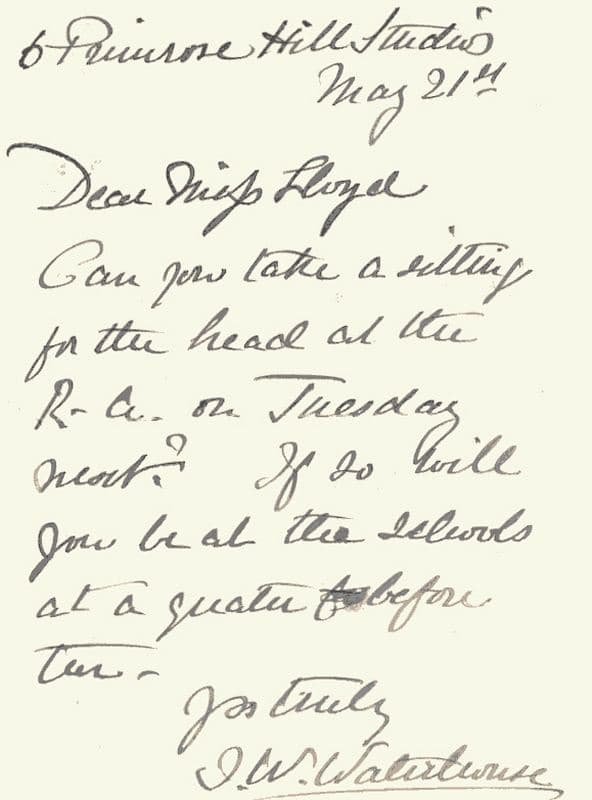 Private Collection (Donald J. Kurz)
Transcription:
6 Primrose Hill Studios
May 21st

Dear Miss Lloyd
Can you take a sitting
for the head at the
R.A. on Tuesday
next? If so will
you be at the schools
at a quarter before
ten.

Yrs truly

J.W. Waterhouse
About the Letter
Who was Miss Lloyd?
The 'Miss Lloyd' of Waterhouse's letter was Mary Lloyd, a professional artist's model who sat for several well-known Victorian painters, including Sir Frank Dicksee and Lord Leighton. Her likeness has sometimes been confused with that of Dorothy Dene, a fellow model.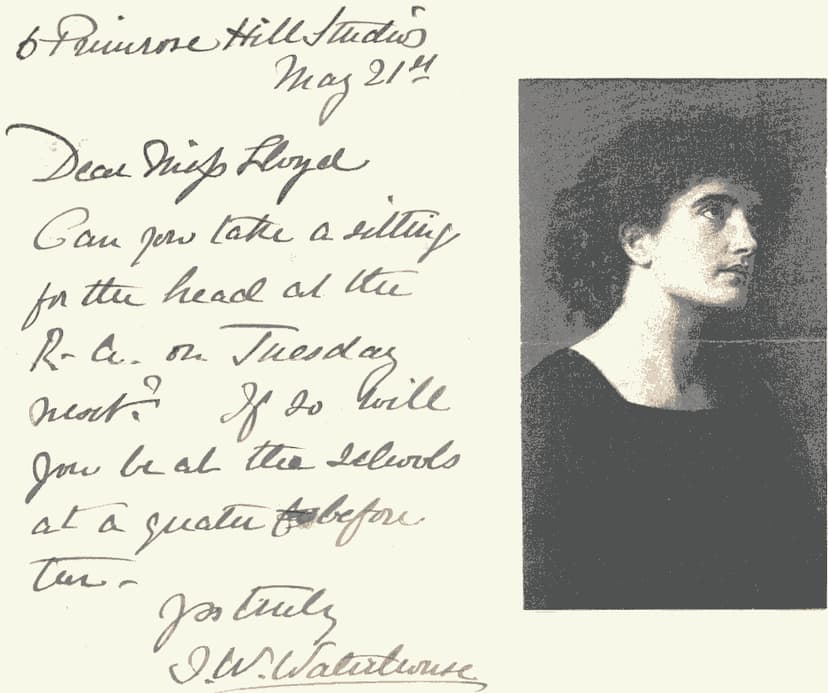 Private Collection (Donald J. Kurz)
Some examples of paintings Mary Lloyd is believed to have sat for include Sir Frank Dicksee's The Crystal Ball, Lord Leighton's Flaming June, Sir John Everett Millais's Saint Stephen and Sir Lawrence Alma-Tadema's A Coign of Vantage.

Sir Frank Dicksee
The Magic Crystal (detail), 1894
Lady Lever Art Gallery, Liverpool

Lord Leighton
Flaming June (detail), 1895
Museo de Arte de Ponce, Puerto Rico
Dorothy Dene versus Mary Lloyd
In 1933 an article was published about Mary in the Sunday Express: "The story of Mary Lloyd who had the face of an angel, but outlived her luck". Following the publication of this article it seems that little, if anything, was written about Mary Lloyd until the 1990s. Her role as a model and muse to some of the most eminent Victorian painters was seemingly forgotten, eclipsed by the brighter memory of Dorothy Dene.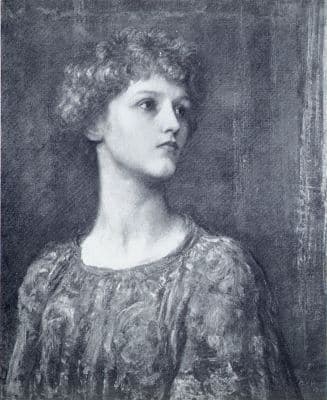 Dorothy Dene by GF Watts (1888).
For example, in 1969, Jeremy Maas wrote in Victorian Painters, his excellent and groundbreaking overview of Victorian art, "Leighton's own favourite model was an English girl, Dorothy Dene, who was admired by Watts for 'splendid growth and form such as the ancient Greek never saw.'" (Maas, Victorian Painters, p. 165). No mention was made of Mary Lloyd in the book's index.
In 1996, an article by Martin Postle entitled Leighton's Lost Model - The Rediscovery of Mary Lloyd was published in Apollo Magazine ('Lord Leighton and Leighton House', 1996). Postle suggested that Flaming June, possibly one of the most recognizable and famous of all Victorian paintings and traditionally thought to represent a likeness of Dorothy Dene, was in fact modelled by Mary, not Dorothy. The photograph of Mary reproduced below was included in Postle's article. As far as I'm aware, no photographs of Mary dating from the 1890s survive.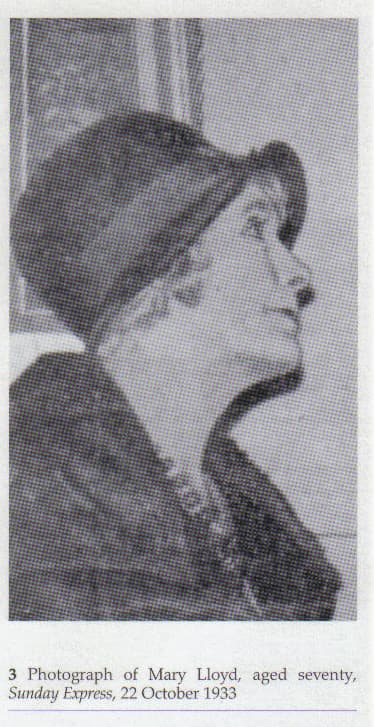 Photograph of Mary Lloyd, aged seventy.
Sunday Express, 22 October 1933
Mary Lloyd: Artists' Model

Lord Leighton
Lachrymae (detail), c.1895
Metropolitan Museum of Art, New York

Sir Frank Dicksee
The Mirror (detail), 1896
Private Collection
I have been able to discover only a few biographical details about Mary Lloyd. Her dates of birth and death appear unknown. The following excerpt comes from Simon Toll's monograph about Herbert Draper (2003).
From pages 74-75:
...the final model for Athene was Mary Lloyd, the daughter of a bankrupted squire from Shropshire. Due to Miss Lloyd's refusal to pose nude, Draper employed another model, Rhoda Winter, for the figure drawings for Athene. Mary retained her respectability by posing for older reputable artists such as Holman Hunt, Burne-Jones, Tadema, Richmond and Draper, and at the Royal Academy Schools she would only pose draped or for head studies. As the older generation dwindled in the twentieth century and she suffered a serious illness, she was forced into the decline that would see her living in a squalid garret and taking in ironing for a living. By 1909 she was modelling at the Royal Academy Schools and gone was her reign as one of the most popular muses in London. Her name was even erroneously logged in the work ledger at the Academy Schools in later years as Marie Lloyd (a music hall artist).

When Draper painted Mary she was at the pinnacle of her career and at her most beautiful. The artists who painted Mary in the 1890s adapted her features to fit their personal conception of beauty and, though she was in her mid-thirties when she was modelling, in the eyes of the artists who painted her she had the ageless beauty of an antique marble Venus. Tadema painted her as a Roman idler in 'A Coign of Vantage', whilst Dicksee painted her as an enigmatic sorceress in 'The Magic Crystal' and as a narcissist in 'The Mirror'. She was a favourite model of Leighton's and in the mid-1890s she posed for several pictures, including 'Lachrymae' and probably also 'Flaming June' (despite the traditional suggestion that Dorothy Dene posed for this canvas). Draper emphasised the strong features of the model for his conception of Athene, the powerful Goddess of War and Wisdom. He first sketched a profile of Mary's head in his sketchbook in June 1893, whilst she was living in the most artistic area of London, on Queen's Road in St John's Wood. Lloyd relied on artists recommending her services to their friends, and Draper's introduction came via Leighton... It was common practice for artists to exchange models... Draper, in turn, introduced Mary to Ralph Peacock, who painted her in 'A Study' of 1896.
From page 113:
Bird, Best, Tallio and de Lucca all worked at the Royal Academy Schools as models and Draper appears to have been visiting the life drawing classes on a regular basis to draw from some of the best artists' models in London. After Leighton's death his favourite models, the Colarossi and Valona families, Dorothy Dene and Mary Lloyd, had all worked at the Academy...
Toll does not mention any connection between Waterhouse and Mary Lloyd, but he does note that no correspondence survives between Draper and Waterhouse. Perhaps Draper introduced Waterhouse to Mary Lloyd during the later years of the 1890s when she had started working at the RA Schools (Leighton died in 1896). In 1892, Waterhouse had introduced Draper to one of his models, a Miss Agnes Richardson (Toll, p. 59; and Trippi, p.104). The following year Leighton introduced Draper to Mary. Maybe Draper subsequently introduced Mary to Waterhouse.
Mary Lloyd also sat for Frederic Shields (1833-1911). Below is an undated letter which Shields wrote to Mary, presumably in response to her agreeing to sit for him at his studio at Morayfield, Merton: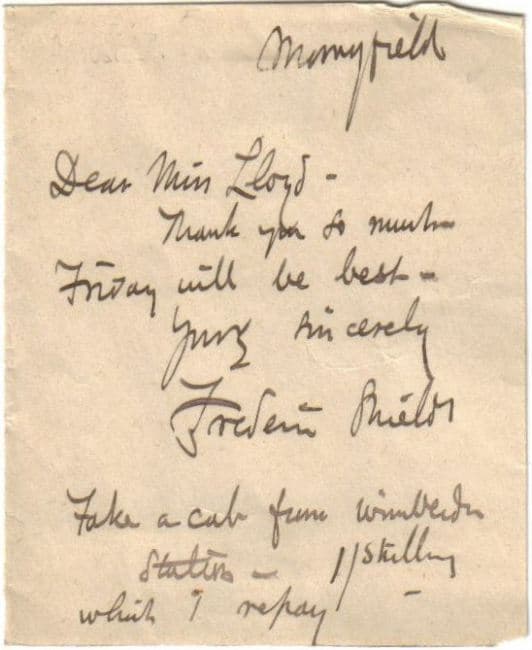 Private collection (Scott Thomas Buckle)
Transcription:
Morayfield

Dear Miss Lloyd -
Thank you so much.
Friday will be best.
Yours sincerely
Frederic Shields

Take a cab from Wimbledon
Station. 1/shilling
which I repay.
Mary Lloyd also modelled for the artist Sir William Blake Richmond. He had been introduced to her by William Holman Hunt.
For female models he used a Mrs Lloyd who was introduced to him by his friend Holman Hunt, and Antonia Cura, one of Burne-Jones's favourite models, representing the very image of his ideal of beauty.
(Simon Reynolds, William Blake Richmond: An Artist's Life 1842-1921, 1995)
Which Picture?
Waterhouse may have requested Mary Lloyd to sit for him as an independent exercise rather than a study for a figure in a particular painting.
In the letter he is requesting her to "take a sitting for the head". Judging from the paintings of her by Dicksee and Leighton, and from the chalk drawing shown below, Mary's physical characteristics were dark wavy long hair, an upturned nose, thick eyebrows, a long neck and a strongly defined jaw-line. The closest image to this description is the study in chalk shown below: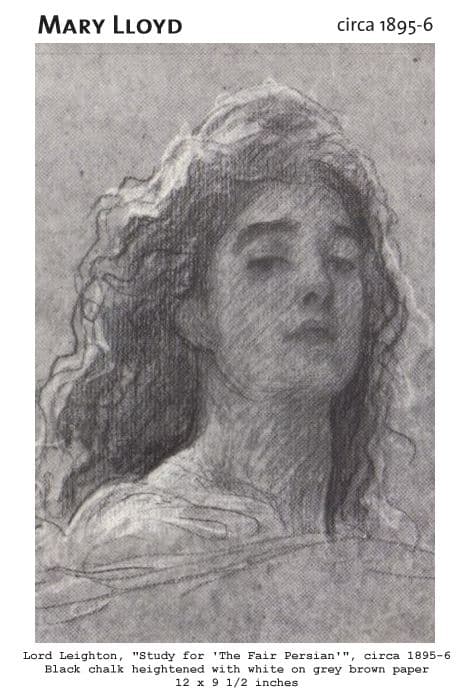 Lord Leighton
Study for the Fair Persian (Portrait of Mary Lloyd)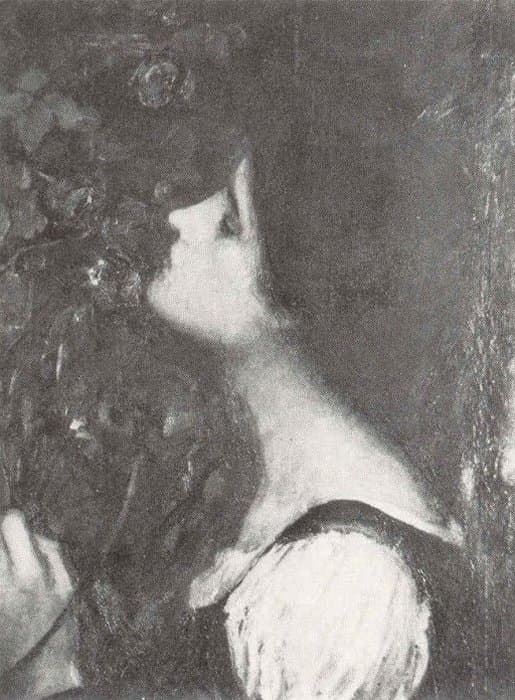 John William Waterhouse
Study for The Soul of the Rose
Primrose Hill Studios
Waterhouse leased a studio at Primrose Hill Studios for seventeen years, from 1878 until 1900, first No. 3, moving to No. 6 in 1887. The letter is undated, but going by the address of '6 Primrose Hill Studios', and from when it is thought Mary Lloyd first started modelling (around 1893: see Toll, p. 73, Study of Mary Lloyd, 1893 from a sketchbook of Draper), its date can be estimated to be between 1896 to 1900. Waterhouse moved to 10 Hall Road in St. John's Wood in 1900.
Royal Academy
In the letter, Waterhouse requests that Miss Lloyd meet him at the R.A. Schools. Waterhouse was elected an associate of the Royal Academy (A.R.A.) in 1885, and elected R.A. ten years later in 1895. He taught at the R. A. Schools for many years. His diploma painting was A Mermaid. According to Toll (p.113) Mary Lloyd started working at the RA Schools after Leighton's death in 1896.
Other Waterhouse Models
His models provide a theme of interest in themselves. They are absolutely central to his work, and they are feminine almost without exception... he was addicted to drawing and there is a whole series of finely modelled female heads in chalk, a number of which may be of friends rather than professional models... But the paintings show how as the years went by he continually sought his ideal vision of womanhood, rather than some character type adapted to each new subject. The extraordinary thing is that he found her and remained faithful to her in his art, reflecting the distant ideal of medieval courtly love in the warmed mirrors of Italian passion and Greek sensuality. (Hobson, 1978)
Please read the articles by Scott Thomas Buckle below to learn about the identities of other Waterhouse models.
Further Reading
For information about artists' models during the Victorian period see:
A Gallery of Her Own: An Annotated Bibliography of Women in Victorian Painting, Elree L. Harris and Shirley R. Scott, Garland Publishing, 1997. (Chapter 3: Models - The Tyranny of the Ideal);

The Artist's Model: From Etty to Spencer, Martin Postle and William Vaughan, Merrell Publishers, 1999;

Dictionary of Artists' Models, Jill Berk Jiminez, Fitzroy Dearborn, 2001.
References and Credits
Anne Goodchild and Anthony Hobson, John William Waterhouse R.A. 1849-1917, Sheffield City Art Galleries, 1978

Jeremy Maas, Victorian Painters, 1969

Martin Postle, Leighton's Lost Model; The Rediscovery of Mary Lloyd, Apollo Magazine, February 1996.

Martin Postle and William Vaughan, The Artist's Model - From Etty to Spencer, Merrell Publishers, 1999

Simon Toll, Herbert Draper 1863-1920; A Life Study, Antique Collectors' Club, 2003

Peter Trippi, J.W. Waterhouse, Phaidon Press, 2002
Additional assistance from Donald J. Kurtz, Scott Thomas Buckle and Cathy Baker.
Continue reading:
A Waterhouse Model Discovered
There has been much speculation into the identity of the models used by the artist John William Waterhouse. Whilst the focus had primarily been upon the female faces and figures that populate his pictures, research that I conducted in 2005 introduced the name of a well-known Victorian male model to feature within Waterhouse's oeuvre.
Read more »
Ethel and Narcissus - a closer look at two of Waterhouse's models
Late in 2004, whilst looking through John William Waterhouse's old sketchbooks at the V&A, I discovered the names of several models, recorded by the artist along with details of their addresses.
Read more »
Letters written by John William Waterhouse
Little is known about John William Waterhouse's private life. This website has gathered together a number of letters written by Waterhouse which are now in private collections.
Read more »