Collecting Waterhouse Paintings Today
Art dealers and Waterhouse's biographer, Peter Trippi, discuss the appeal of Waterhouse to modern day collectors.
"I always said that the artist who would end up the most expensive would be Waterhouse" —Peter Nahum
The same year the P.R.B. exhibited in London for the first time, the leader of the so-called third generation of Pre-Raphaelites, Waterhouse, was born. Often called the movement's most popular artist, Waterhouse was also a Royal Academy man whose work benefited from the flurry of movements in painting at the end of the 19th century. He absorbed the freedom of the aesthetic movement, the beautiful classical nudes of Frederic Lord Leighton, Lawrence Alma-Tadema and Edward Poynter. Most importantly, according to critics, his brushwork reflects his exposure to the French Naturalists and Impressionists, and it is this quality that makes his works so appealing to those who grew up looking at French painting. He also became a Pre-Raphaelite. After seeing Millais' Ophelia in 1886, Waterhouse, like his earlier brethren, turned to the poems of Tennyson for inspiration and painted The Lady of Shalott (1888), which today holds the honor of being Tate Britain's most popular postcard. This was followed by his own version of Ophelia (1889). Waterhouse's oeuvre is full of exquisitely painted, languid, slightly disturbing maidens set in lush naturalistic settings derived from ancient Greece and Rome, the Middle Ages, romantic poetry and his very wild imagination.

Despite his popularity with his contemporaries, after two World Wars Waterhouse fell out of favor. "In the 1940s and '50s, two British museums deaccessioned Waterhouse works," says Peter Trippi, who curated this year's Waterhouse show at the Royal Academy. "It wasn't until the late '60s that these paintings started to move back into fashion."

At several removes from the Victorian era, the '60s generation could appreciate the opium-induced fantasies and bare-breasted beauties of the Pre-Raphaelites, and the paintings started showing up in unlikely places, such as on pop album covers and on posters on university dorm-room walls. And just as Hollywood types such as Cecil B. DeMille and even Candid Camera's Allen Funt were drawn to the drama of Alma-Tadema, rock stars like Jimmy Page and Rod Stewart and musical theater bigwigs like Lloyd-Webber and Tim Rice wanted Pre-Raphaelites.

"It was the early '70s, and Tim Rice had some money at the time and he was walking on Bond Street and wandered into the Fine Art Society, where he fell in love with these things," says Trippi, referring to the Emmy-award winning lyricist who loaned four Waterhouses to the present exhibition. The Fine Art Society, which specializes in 19th-century British paintings, also helped assemble the Victorian collection of Kip Forbes, who famously told his father, Malcolm, that he could put together a top-quality Pre-Raphaelite collection for the same price his father paid for a single Monet Water Lily. The Fine Art Society is now selling some of Forbes' collection, which includes works by Millais, Alma-Tadema and Albert Moore. Moore's Jasmine set an artist's record of £1.77 million in 2008 at Christie's.

The salesrooms have proven Waterhouse to be the star of three generations of Pre-Raphaelites. The artist, who died leaving no diaries or papers and therefore whose personal life is little known, made news in 2001 when London dealer Peter Nahum bought his St. Cecilia for a collector—reportedly Lloyd-Webber—for £6.6 million, still the record for a Victorian painting. "I always said that the artist who would end up the most expensive would be Waterhouse," says Nahum, a 25-year-veteran who established Sotheby's Victorian paintings department in the early 1970s. "Some of the other Pre-Raphaelites have hard edges; Burne-Jones is intellectual; Rossetti is right over the top; and self-made men don't like to be challenged by their pictures."

Nahum is referring to the Pre-Raphaelite collecting clique, whose most famous member is Lloyd-Webber. He owns hundreds of the most important Victorian paintings, which he began snapping up for a song in the early '70s with the help of his curator, David Mason of MacConnal-Mason Gallery in London. In 2003 the Royal Academy mounted his collection, Pre-Raphaelite and Other Masters, and in the catalogue, Lloyd-Webber claims that when he asked his grandmother for a £50 loan to buy Lord Leighton's Flaming June, now dubbed the "Mona Lisa of Victorian art," she responded, "I will not have Victorian junk in my flat."

"I don't believe that story," says Rupert Maas of Maas Gallery in London, which was founded in 1960 by Rupert's father, Jeremy, a noted academic, author and a pioneer of the Victorian picture trade. "When my father bought Flaming June for £1,000 in 1962, everyone said he was mad, and when he sold it for £2,000 everyone said he was bad." Like Burne-Jones' Arthur, the painting went to the Museo de Arte de Ponce, where, Maas says, it's insured for $30 million.

Maas has had Waterhouse's St. Cecilia three times, and most recently offered it in vain to the same client who later bought it for the record price at auction. "On behalf of the owner, I was asking £2.5 million, which I was made to feel was asking too much. The owner put it in to Christie's, where it went for £6.6 million. These were competing collectors who liked to fight their battles publicly."

Maas and Nahum both point to a triumvirate of collectors who, in the late 1980s and early '90s pushed prices for Pre-Raphaelites sky-high: Lloyd-Webber, New Jersey-based stockbroker Jerry Davis and Australian entrepreneur John Schaeffer. The fact that so many Pre-Raphaelites are owned by British museums and by Lloyd-Webber means that few paintings get to market. "Many of our collectors have bought in the past 40 years," says Martin Beisly, Christie's international head of Victorian pictures, "unlike their predecessors who may have inherited and wanted to sell."

"It's so rare to find things from that period, particularly from the Brotherhood," says Grant Ford, Sotheby's senior director for Victorian paintings. "The really good Pre-Raphaelites are worth millions. If we had one it would have huge international interest." At its Victorian sale in London this month, Sotheby's will offer academic drawings by Burne-Jones, estimated from £2,000–5,000, and Short Change, by James Collinson, an early member of the Brotherhood.

Increasing international interest in Pre-Raphaelites, particularly from Russia, South America, China, Taiwan and the U.S., means that when good pictures do come to market, there's a good chance they could leave Britain—something that Nahum believes is still possible, because of the country's lingering, self-hating grudge against the Victorian era. "Even today," he says, "the British government would not stop an important Pre-Raphaelite from leaving this country."

Source: 'Victorian Vanguard' by Sally Bradby, Art & Antiques.
The undated article above ends with Peter Nahum stating that the British government wouldn't impose export restrictions on any Pre-Raphaelite paintings.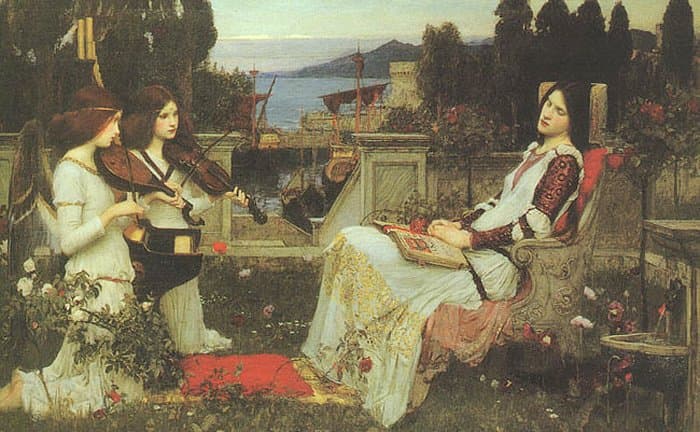 John William Waterhouse
St Cecilia (location unknown)
The Andrew Lloyd Webber Art Foundation bought St Cecilia for £6.6million in 2000 using a donation from the composer. However, according to a 2008 article in the Daily Telegraph the foundation "secretly sold Waterhouse to an unknown Russian buyer. The foundation is understood to have made a profit on the sale." Can anyone shed any light on where St Cecilia is today?
Continue reading:
Patrons and Collectors
Below is a list of known patrons and collectors of Waterhouse's paintings during his lifetime, along with brief biographies.


Read more »