Patrons and Collectors
Below is a list of known patrons and collectors of Waterhouse's paintings during his lifetime, along with brief biographies.


Sir John Aird (1833-1911)
Collector, owner of Whispered Words and Offerings to the Gods.
Born in London, of Scottish descent. Engineer. Builder of the famous Aswan Dam across the Nile. Collector of modern British art. Lived in a mansion facing Hyde Park (14 Hyde Park Terrace) and at Wilton Park, Bucks. Conservative Member of Parliament for Paddington, North. Created a baronet in 1901.
"Unlike many picture collectors, Mr. Aird has never regarded his "hobby" in the light of an investment. It has been from the first a labour of love. To borrow a well-worn phrase, he has bought his pictures "to live with." They are not arranged in the formal lines of a gallery; they adorn every room of the house; its doors, its lobbies, and its staircases to the very top, are ornamented with them. They are, therefore, the daily companions and friends of their owner, and of his family and their friends. Many of them have owed their execution of his own suggestion; others have been specially painted by their artists for the places where they now hang; every one seems to bear the impress of care and forethought which have selected them on account of some definite and precise reason, not very far to find. It may be stated at once that nearly all Mr. Aird's pictures are of the modern English school.
...
On either side of the large folding doors hangs a work of Mr. J. W. Waterhouse's. One is 'Whispered Words', a Greek girl and her lover standing in colloquy together, the artist's earliest success, and its companion, 'Offerings to the Gods.'
Source: 'The Private Art Collections of London', The Art Journal, May 1891
Sir Frederick Morris Fry, KCVO (1851-1943)
Patron, owned Juliet, Gather ye Rosebuds while ye may and Lamia (1909)
Alexander, 1st Lord Faringdon Henderson
Patron, owned several paintings including Nymphs finding the Head of Orpheus.
"In 1889 Buscot was sold to Alexander Henderson, later 1st Lord of Faringdon (1850-1934), a financier of exceptional skill and ability. Henderson was the second son of a distinguished Greek and Hebrew scholar, George Henderson of Langholm, Dumfries, and brother of Brigadier-General Sir Brodie Haldane Henderson, RE. His first job in the City was with Deloittes, a leading firm of accountants. Soon afterwards he joined the stockbroking firm of Greenwood & Co., whose merger in 1932 with Cazenove Ackroyd was due to his efforts.
At an early age he became a leading figure in the City, financing a wide range of industrial and business enterprises, but specialising in the promotion of railways, both in the UK and in South America. He was chairman of the Great Central Railway from 1889 until the regrouping of 1922 (when it became part of the London & North Eastern) and a major shareholder in the Manchester Ship Canal. He also held interests in port developments and telephone and electrical systems all over the world. During the First World War he launched the British Trade Corporation, serving as its first chairman. He was created a baronet in 1902, baron in 1916, and a Companion of Honour in the following year. The 1st Lord Faringdon's political career was firmly allied to his business and commercial interests. He first entered the House of Commons as a Unionist MP in 1898, and became a strong supporter of Joseph Chamberlain's campaign for tariff reform, acquiring control of a newspaper, the Standard, to advocate these views. He later became a frequent speaker in the House of Lords on this and related subjects. At Buscot, he reverted to a more traditional policy of estate management than his predecessor, Robert Campbell, but rendered notable services to agriculture by his improvements to pedigree stock. He served as High Sheriff of Berkshire and as President of the Shire Horse Society."
Henderson was a patron of John William Waterhouse, and other 19th century artists. His home at Buscot Park is famous for the Briar Rose series of paintings by Sir Edward Burne-Jones. Today, Buscot Park is the home of the 3rd Lord Faringdon, and is open to the public as a National Trust property. Sadly, most of the 1st Lord Faringdon's collection of 19th century paintings, including GF Watts' Choosing and Millais' Esther, were dispersed at auction in July 1934. Three works by Watts (Wife of Pygmalion), Ford Madox Brown (Entombment) and Lord Leighton (Daedalus and Icarus) were later bought back by his grandson, and are today displayed in the Pre-Raphaelite Room.
Source: Buscot Park & The Faringdon Collection, National Trust, 2004
H.W. Henderson
Brother of Alexander Henderson.

Patron, owned several paintings. Owned Isabella and Ariadne.
Major Alec P Henderson
The second son of Alexander Henderson, Lord Faringdon.
Patron, owned several Waterhouse paintings including Listening to my Sweet Pipings, A Song of Springtime, The Annunciation and Narcissus.
Sir Brodie Haldane Henderson
Brother of Alexander Henderson

Patron, owned several paintings including The Soul of the Rose.
Alfred A de Pass
Collector. Cliffe House, Falmouth. Owned Pandora.
William Hesketh Lever (Lord Leverhulme)
Collector, owner of several Waterhouse paintings including The Love Philtre. The Lady Lever Art Gallery in Port Sunlight, Liverpool is one of his legacies, founded in 1922 by William Hesketh Lever, the first Lord Leverhulme, in memory of his wife. The gallery displays works collected by Leverhulme throughout his life. British 18th and 19th century painting, 18th century furniture and outstanding collections of Wedgwood and Chinese porcelain are among the treasures on show
Sir James Murray
Collector. Owned several paintings including The Danaides (1906).
Sir Henry Tate
Collector. Owned several paintings which are now in the collection of Tate Britain, London.
George McCulloch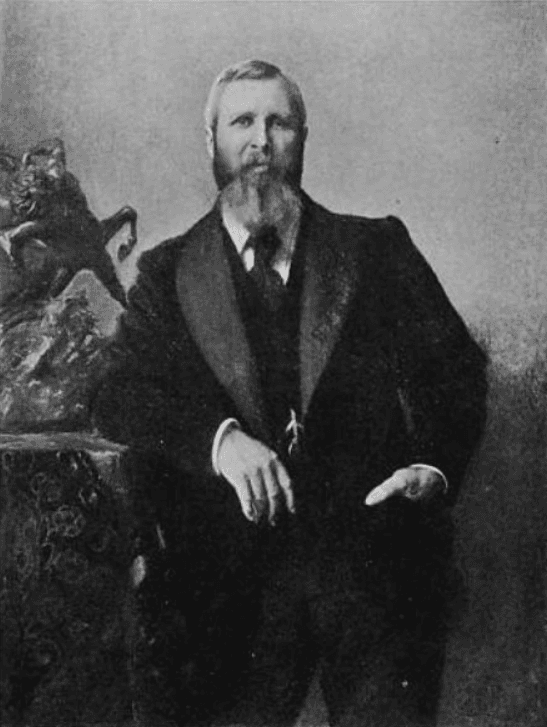 Pascal-Adolphe-Jean Dagnan-Bouveret
Portrait of George McCulloch
Published in The Art Journal, 1909.
Collector of paintings which had been produced in his own lifetime including Love Among the Ruins by Sir Edward Burne-Jones, Sir Isumbras at the Ford by Sir J.E. Millais, Flora and the Zephyrs, Ophelia (1894) and St Cecilia by John William Waterhouse. Lived at 104, Queen's Gate, London. After his death the Winter Exhibition of the Royal Academy exhibited pictures and sculpture from his collection. Christie's sold his collection in 1913 including two of the Waterhouse paintings:
The two examples of Mr Waterhouse, 'Saint Cecila', from the Royal Academy of 1895, and 'Flora of the Zephyrs', from the Academy of 1898, are understood to have cost about £1,600 together, and now sold for 2,300 guineas (Gooden and Fox) and 1,700 guineas (Merton) respectively.
Further reading:
Mr Claude Phillips and Mr A.L. Baldry, series of articles The Art Journal in 1896 and 1897

The McCulloch Collection, Special number of The Art Journal (Virtue & Co) with 140 illustrations
Sir Cuthbert Quilter
Collector. Owned Mariamne which was sold at his death to Leonard Albu.
The picture was bought by Cuthbert Quilter, the elder brother of Harry Quilter, the erstwhile art critic on the Times and the victim of Whistler's mercilessly caustic wit. Cuthbert Quilter was a wealthy corporate capitalist who invested in the nascent telephone system, entered Parliament, and was rewarded with a knighthood in 1897. He belonged to a well-known type of collector, buying large, well-reviewed pictures and being almost over-eager to lend them to exhibitions, well aware that this reflected advantageously on himself and enhanced the value of the work in question. Mariamne, with her dramatic, affecting subject and monumental scale, was perfectly tailored to big international exhibitions, and during his twenty-two years of ownership, Quilter allowed her to travel at least eighteen times across Europe and America. In the process, she collected medals at the Exposition Universelle in Paris in 1869, the World's Columbian Exhibition in Chicago in 1893, and the Exposition Internationale in Brussels in 1897.

The picture fetched 480 guineas when Sir Cuthbert sold it in 1909, two years before his death, in a sale totalling £87,780 at Christie's, but the price had dropped to a mere 48 guineas when it came under the hammer again in 1938. The case is fairly typical of the reaction against the Victorians. Burne-Jones's Love leading the Pilgrim was bought for the Tate Gallery in 1943 for 90 guineas, and the pathetic neglect of Leighton's Flaming June between the 1930s and the early 1960s is legendary.
from the Christie's sale catalogue for the 2003 sale 'The Forbes Collection of Victorian Pictures and Works of Art'
Julia Ellsworth Ford (1859-1950)
Collector, owner of Waterhouse's painting Danae which was stolen from her New York residence. The present whereabouts of Danae is still unknown.
Julia Ellsworth Ford, neé Shaw, was a New York socialite, philanthropist, author of children's books and doyenne of a salon that included the Lebanese mystic Kahlil Gibran, Irish poet and playwright William Butler Yeats, and American dancer Isadora Duncan. Her husband was Simeon Ford, financier and noted host of the old Grand Union Hotel, New York (co-owned with Julia's brother Samuel Shaw).
Mrs. Ford "though extremely wealthy, was more interested in meeting famous people, whom she collected as others did stamps or butterflies, than in disbursing her capital: "the woman who aspires" was the way he described her to Florence Farr." (from a 1905 letter by John Quinn quoted in Prodigal Father: The Life of John Butler Yeats, William Michael Murphy.)
"Mrs. Ford had a great interest in the Pre-Raphaelite painters and later artists such as JW Waterhouse and Arthur Hacker, both of whom she knew personally. She went to Germany to meet the German painter Franz von Stuck and to get photographic reproductions of his work. She created her own wallpaper for her upstairs study by arranging on the walls as a mosaic over two hundred photographic reproductions of pictures by these artists."  
Source: The Yale University Library Gazette, 1926 
Leonard Albu
Collector. Lived at 4 Hamilton Terrace, Park Lane, London. Owned Mariamne, wife of Herod the Great, going forth to Execution between 1909 to 1938. It was sold after Albu's death to Mrs A.M.W. Stirling, sister of the painter Evelyn De Morgan, who created a large art collection at Old Battersea House, her London home for many years.
Mariamne was later sold by the Forbes Collection in 2003: Estimate in 2003 was 1,000,000 - 1,500,000 GDP. Price realized 666,650 GDP.


Ernest Moon, KC
Collector. Owned The Lady Clare.

Wolf Harris
Collector. Owned Jason and Medea (1907).
F.H. Pyman
Collector. Owned The Crystal Ball (1902).
Captain J. A. Harvey
Collector. Owned Flora (1891).
James Ogston
Collector. Owned The Awakening of Adonis (1900).
Continue reading:
Collecting Waterhouse Paintings Today
Art dealers and Waterhouse's biographer, Peter Trippi, discuss the appeal of Waterhouse to modern day collectors.
Read more »