Reminiscences from 'Bridle and Brush' by George Denholm Armour
John William Waterhouse occupied a studio at Primrose Hill Studios, a purpose built artists' community in north London, from 1878 until 1900. His fellow artists included William Logsdail, Maurice Greiffenhagen, and George Denholm Armour (1864-1949). G.D. Armour later wrote about his memories of the community in Bridle and Brush, published in 1937. 
Armour's recollections of Waterhouse are copied below. Armour also published a photograph of Waterhouse (reproduced below). This photo does not appear to have been published subsequently in other publications about Waterhouse, or the Primrose Hill Studios. It depicts JW Waterhouse RA (standing top left), Maurice Greiffenhagen (standing top right), Mouat Loudan (sitting left), GD Armour with a dog on his lap (middle). The woman is not identified. The photograph is undated, probably 1891-1892.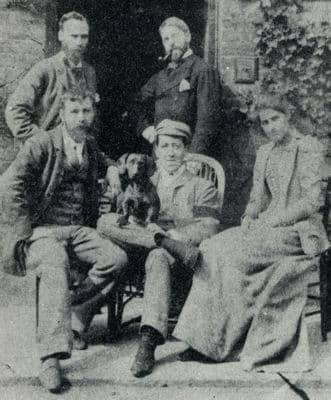 Reminiscences by George Denholm Armour.
Bridle and Brush: Reminiscences of an Artist Sportsman by George Denholm Armour. Published by Eyre & Spottiswoode, London / New York, 1937. pp. 135-139.
I was in London and had a studio near Primrose Hill. It was a great improvement on anything I had had before, and was really a very comfortable way of living for a man alone.

There were twelve studios round a court, some of which were occupied by people of note. J.W. Waterhouse, R.A., was one, Maurice Greiffenhagen another, and others of us of less importance. It was a very happy little colony, and we had great fun outside our work.

Waterhouse's studio was a never-failing place of meeting, and he and his wife the best of hosts. Greiffenhagen was, when in the humour, a wonderful pianist. He played the piano by instinct--there is no other word for it. I have gone with him to some kind of light opera and seen him, on our return, though almost unable to read music, sit down and give a vivid impression of what we had heard, orchestration and all. ... He was fond of fun, and, like dear old quiet Waterhouse, took his part in all the nonsense we amused ourselves with at Primrose Hill.

I remember some tableaux vivants in which we caricatured each other's pictures. Mine, being mostly of animals, were exempt, but I personally did not escape so easily, as, being the only clean-shaven member of the party, I was cast for all the female parts involved. This, to any one who knows my physical characteristics, was joke number one, and a good one.

One of the pictures caricatured was Greiffenhagen's well-known Idyll, now in the Liverpool Art Gallery. As all the world knows it represents a shepherd embracing a very pretty shepherdess among large, red poppies. A Scotsman, Torrance by name, did the part of the shepherd, I was the "pretty" shepherdess! The poppies were constructed from scarlet tissue paper, something like a sheet for each, so they certainly could not be overlooked.

Another tableau was Waterhouse's picture of Circe, and here again I filled the title role: the result may be imagined! A few outside friends were admitted to these entertainments, among them a son of Charles Dickens, but there were also many purely studio evenings which, though hardly worth record, were amusing to those who took part. Boxing-gloves and foils were requisitioned at times, and though none of us was even reasonably proficient with either, our very ineptitude was a delight to the onlookers.

One of our occasional visitors was Fred Norton, later to become well known as the composer of the music for Chu Chin Chow and other successful things; besides being a first-class musician he was very amusing company.
Notes
William Mouat Loudan: Loudan was an artist who painted mainly portraits. Louden painted a portrait of Sir Ian Hamilton, and lived near Sir Lawrence Alma-Tadema in St John's Wood; Waterhouse also took a house in this area in 1900.
William Logsdail: Logsdail is described as Waterhouse's 'best friend' in the 1994 exhibition catalogue published by the Usher Gallery, Lincoln, William Logsdail, 1859-1944: A Distinguished Painter.
"Waterhouse's studio was a never-failing place of meeting": Waterhouse first took No. 3, and moved to No. 6 which was a larger studio in 1887. This could be partly why his studio was the favourite meeting place, as it was one of the larger studios (the largest?). No. 6 was later occupied by the childrens' book illustrator Arthur Rackham, and, more recently, by the late Patrick Caulfield.
Other artists who worked at Primrose Hill Studios in the early 1890s include Collier Smithers (No. 5 in 1892, and No. 10 in 1894), William Logsdail (No. 4 in 1893), and Carl Schloesser (No. 1 in 1892). Also, Fred Villiers, War Artist / Correspondent.
Fiction published during Waterhouse's lifetime which featured Primrose Hill Studios includes Mary Stuart Boyd's short work of fiction, published in 1901, about an artist remembering his first studio, and his young model.
His first studio! Looking round the lofty room, bedight with tapestry and curios, at the roof with its great domed light, Cruden thought, with a smile that was half cynical, half tender, of his first studio, one of a dozen alike with their four bare walls, bleak northern skylights, and tiny roof sleeping-chambers reached by a shaky little stair.... Cruden stood in the shabby studio at Primrose Hill. Outside, the air hung heavy with smoke-charged fog; within, the leaping flames in the stove lent a warm glow to the air.
Tableaux vivants: translates from the French as "living pictures". Peter Trippi's monograph of Waterhouse reproduces a photograph of Waterhouse, his wife Esther, and their friends in fancy dress. It is possible that they were dressed up for a tableau vivant as described by G. Denholm Armour.
Idyll: Greiffenhagen's painting The Idyll was exhibited at the Royal Academy in 1891. The writer D.H. Lawrence had an obsession about it: "it moves me almost as much as if I were fallen in love myself. Under it's [sic] intoxication, I have flirted madly this christmas; I have flirted myself half in love;... it is largely the effect of your Idyll that has made me kiss a certain girl till she hid her head in my shoulder..." (from Volume I of the Letters of D.H. Lawrence (ed. James T Boulton).)
Circe: Waterhouse painted two pictures featuring the character of Circe in the early 1890s: Circe Offering the Cup to Ulysses (1891) and Circe Invidiosa (1892). It is not known which version of Circe Armour is referring to above, but a guess would be the first version, dated 1891.


Continue reading:
Reminiscences about J.W. Waterhouse
Almost nothing is known of Waterhouse's private life. Gathered here is a selection of mentions and anecdotes discovered by searching old magazines and books.
Read more »
Photographs
A selection of photographs depicting the painter John William Waterhouse are shown on this page. They include formal studio portraits together with informal family snapshots. Most of the photographs come from the John Physick Collection. The others are reproduced either in the Anthony Hobson 1980 monograph, or Jeremy Maas's Victorian Art World in Photographs.
Read more »