10 Hall Road, St John's Wood, NW8
John William Waterhouse lived at 10 Hall Road, St John's Wood, north London, from 1900 until his death in 1917. The previous occupant was the sculptor Harry Bates, A.R.A. The house today is still a private residence, so please respect the privacy of the current owner if paying a visit to see the Blue Plaque.
Photographs
A Blue Plaque can be seen in the photograph below. It was installed on the left side of the house in 2002 to honour Waterhouse's previous occupancy. The house is semi-detached (no. 8 is on the right, not shown here).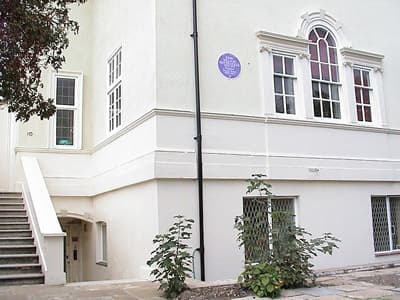 A photograph of John William Waterhouse walking his dog, an Aberdeen terrier, near 10 Hall Road.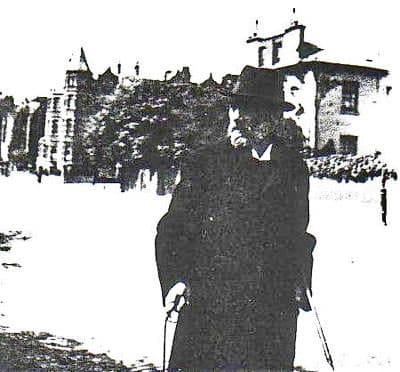 A photograph of Waterhouse working in his studio at 10 Hall Road around 1913.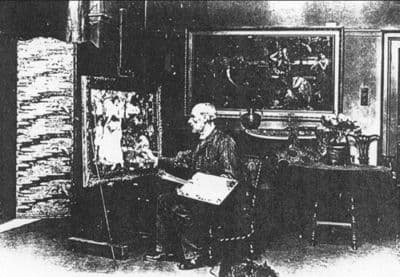 Phone Number
Waterhouse's phone number in 1917 for 10 Hall Road was "Hampstead 5277". By 1932, when Esther was living there alone, it had been updated to "Maida Vale 4115".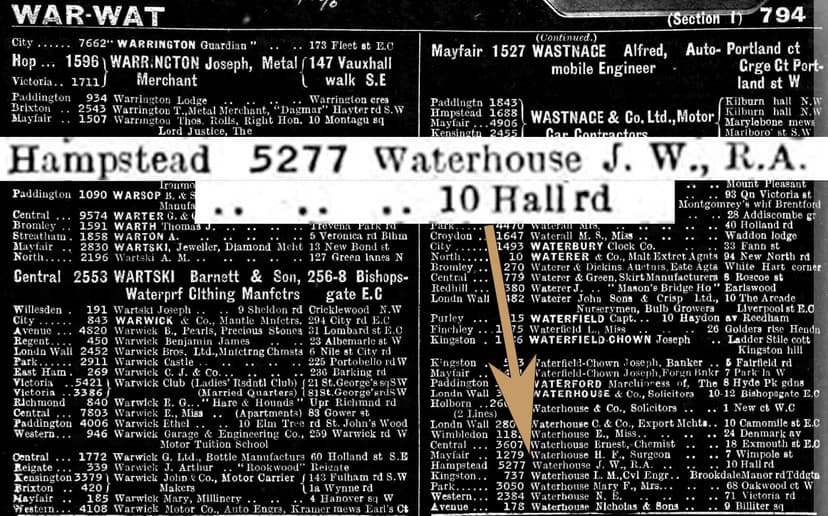 Census Information
1901 Census
The Waterhouses had two servants: a cook and a housemaid / domestic servant. In 1901, the cook was a young girl named Beatrice Workman (born in Birmingham around 1878), and the housemaid was a slightly older girl named Milly Sauter (born in Middlesex around 1875).
1911 Census
In 1911, John William Waterhouse completed and signed the 1911 census stating that his profession was 'Artist (Painter)', that the house had 8 rooms excluding bathrooms, and that he was living there with Esther and two servants. The cook was a 32 year old Londoner (Maud Minnie Longman), and the house parlour maid was a 26 year old woman from Kent (Gertrude Lucy Fry). He had been married to Esther for 26 years* and there was a ten year age gap between them. **
* They had actually been married by 1911 for 28 years.
** Esther's age varied starting with the 1891 census. Before that census she had a 9 year age gap with her husband; after that she kept getting younger. In 1891 she was 12 years younger, in 1901 13 years, and by 1911 she had regained a few years, being 10 years younger.
After 1917
Waterhouse died in 1917, and Esther Waterhouse lived on at 10 Hall Road where her name can be found in the electoral registers, e.g. this one from 1926: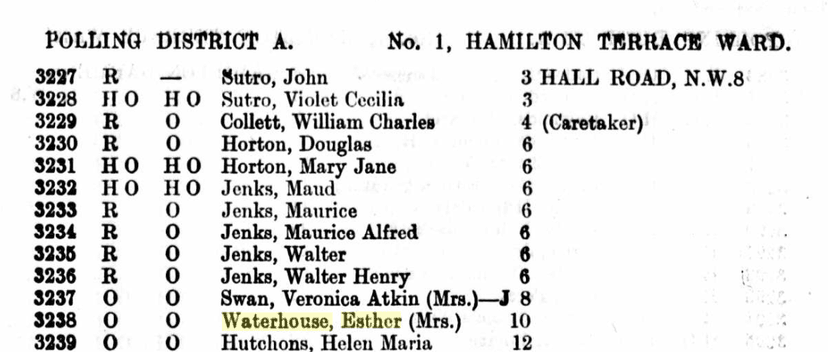 She left the house by about 1932 and would spend her final years staying in hotels, with friends and lastly in a nursing home in Kent, where she died in 1944.
The artist Lowes Dalbiac Luard lived at 10 Hall Road with his wife and daughter Veronica from about 1933 until his death in 1944.
Continue reading:
English Heritage Blue Plaque
In 2002 a Blue Plaque was installed at the former home of John William Waterhouse in St John's Wood, London. The Blue Plaque is a scheme organized by English Heritage which honours famous people and important buildings in the United Kingdom.
Read more »