Letters to John Charles Dollman
The letters featured here, addressed by John William Waterhouse to "Dollman", presumably the artist John Charles Dollman (1851-1934), come from a private collection.  They are written from 10 Hall Road and therefore date between 1901-1917.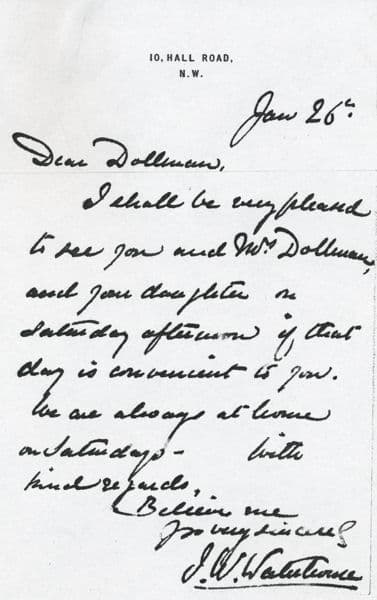 Transcription:
10, Hall Road, N.W.
Jan 26th

Dear Dollman,

I shall be very pleased to see you and Mrs. Dollman and your daughter on Saturday afternoon if that day is convenient to you. We are always at home on Saturdays. With kind regards.

Believe me

Yrs very sincerely

J.W. Waterhouse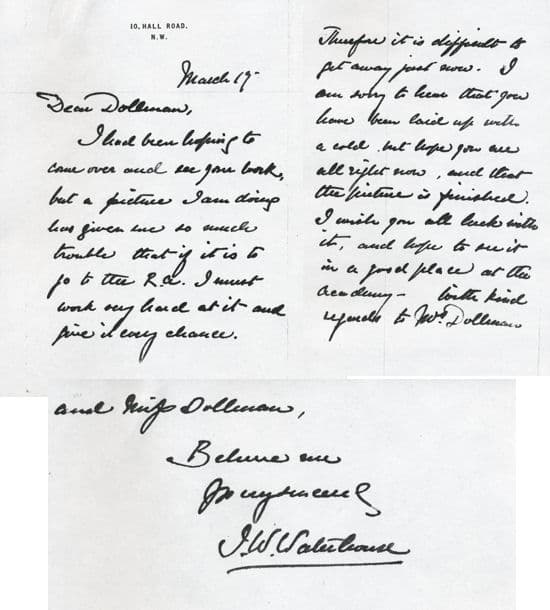 Transcription:
10, Hall Road, N.W.

March 17(?)

Dear Dollman,

I had been hoping to come over and see your work, but a picture I am doing has given me so much trouble that if it is to go to the R.A. I must work very hard at it and give it every chance. Therefore it is difficult to get away just now. I am sorry to hear that you have been laid up with a cold but hope you are all right now, and that the picture is finished. I wish you all luck with it, and hope to see it in a good place at the Academy. With kind regards to Mrs. Dollman and Miss Dollman.

Believe me

Yrs very sincerely

J.W. Waterhouse
Notes:
Dollman lived in Bedford Park, West London with his wife and four children. From the 1911 census we learn the following about them:
John Charles Dollman, aged 59, Mary Jane Dollman, aged 57. Married for 31 years, they had 4 children, all of whom were still living.

John listed his personal occupation as "Painter (artist) sometimes painting both ships & houses in pictures.

Both of his daughters were painters:
- Mary Dollman, aged 28, "Painter (artist)"
- Ruth Dollman, aged 26, "Painter (artist) sometimes painting houses in pictures."

His two sons, John and Hereward, aged 24 and 23 respectively, were occupied in Natural Sciences.
It is not clear whether Waterhouse is referring to Mary or Ruth when he gives his kind regards to "Miss Dollman".
Continue reading:
Letters written by John William Waterhouse
Little is known about John William Waterhouse's private life. This website has gathered together a number of letters written by Waterhouse which are now in private collections.
Read more »