Letter to M.H. Spielmann
The letter featured here, addressed by John William Waterhouse to Marion Harry Spielmann (1858-1948), comes from a private collection. M.H. Spielmann was an art critic and editor of The Magazine of Art from 1887 to 1904. Waterhouse lived at 6 Primrose Hill Studios in the 1890s.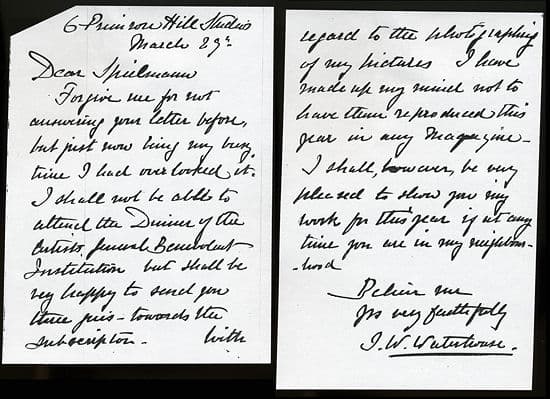 Transcription:
6 Primrose Hill

March 29th

Dear Spielmann

Forgive me for not answering your letter before, but just now being my busy time I had overlooked it. I shall not be able to attend the Dinner of the Artists General Benevolent Institution but shall be happy to send you three guis. [guineas] towards the subscription. With regard to the photographing of my pictures I have made up my mind not to have them reproduced this year in any magazine. I shall, however, be very pleased to show you my work for this year if at any time you are in my neighbourhood.

Believe me

Yrs very faithfully,

J.W. Waterhouse
Continue reading:
Letters written by John William Waterhouse
Little is known about John William Waterhouse's private life. This website has gathered together a number of letters written by Waterhouse which are now in private collections.
Read more »