Letter to Peregrine Feeney
The "Feeney" to whom John William Waterhouse is conveying bad news about a picture is probably his brother-in-law Peregrine Feeney (1837-1913). The letter comes from a private collection, and is without a letterhead making it difficult to date.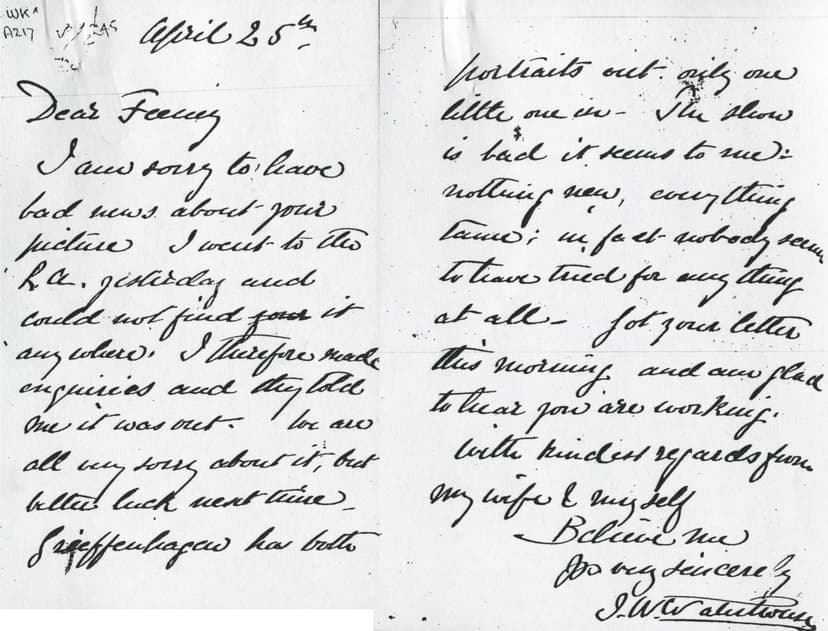 (This is a scan of a photocopy of the original letter - the original does not have the imprint of a paper clip at top left.)
Transcription:
April 25th

Dear Feeney

I am sorry to have bad news about your picture. I went to the R.A. yesterday and could not find it anywhere. I therefore made enquiries and they told me it was out. We are all very sorry about it, but better luck next time. Greiffenhagen has both portraits out, only one little on in. The show is bad it seems to me nothing new, everything tame; in fact nobody seems to have tried for anything at all. Got your letter this morning and am glad to hear you are working.

With kindest regards from my wife & myself,

Believe me

Yours very sincerely,

J.W. Waterhouse
Continue reading:
Letters written by John William Waterhouse
Little is known about John William Waterhouse's private life. This website has gathered together a number of letters written by Waterhouse which are now in private collections.
Read more »