The Last Exhibition, 1917
After Waterhouse's death in February 1917, four paintings were exhibited at the Royal Academy that year, his last exhibition.
The Enchanted Garden was the painting which Waterhouse was working on at his death: it was left unfinished on his easel.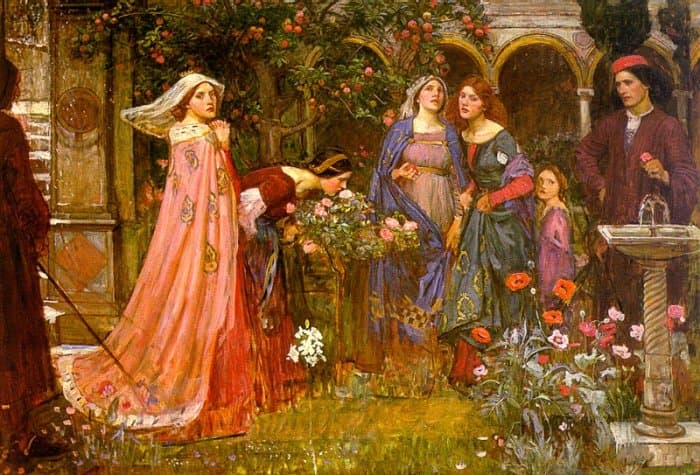 John William Waterhouse
The Enchanted Garden
No. 63, Fair Rosamund
No. 111, Tristram and Isolde
No. 151, The Enchanted Garden (From Boccaccio's Tales)
No. 475, Miranda

A review in The Studio of the Royal Academy exhibition stated that:
The four pictures by Mr. Waterhouse make a pathetic appeal as the last we shall have from a man who for many years past has added much to the interest of the Academy shows--they remind us sadly of the loss we have sustained by his death.
The same issue of The Studio also published a lengthy retrospective of Waterhouse's career by A. L. Baldry with numerous illustrations (this article will be available here shortly).
Continue reading:
The Sketchbooks
Sketchbooks used by Waterhouse throughout his career were donated to the Victoria and Albert Museum in London by John Physick, great-nephew of the artist, and have now been digitised for online viewing. They can also be viewed in person in the Prints and Drawings Room at the museum.
Read more »