The Final Resting Place
John William Waterhouse died on 10th February 1917. Following a funeral service held at St Mark's Church in St John's Wood, London, Waterhouse's body was taken to be buried at Kensal Green Cemetery in northwest London.
Waterhouse had had a serious illness in 1896 when "friends were worried he wouldn't get Hylas finished in time for the Royal Academy show". He made his will that year and the witnesses were Richard Willes Maddox (an artist) and his wife Elizabeth (nee Wrigley).
The Grave
Waterhouse's grave became quite rundown towards the end of the 20th century, and there was a campaign about 15 years ago to restore the headstone.
The following photographs were taken in October 2003 before the grave restoration.
Kensal Green Cemetery
The grave is located near the West London Crematorium.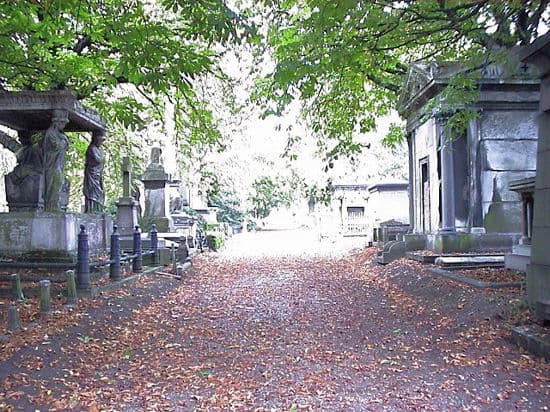 Waterhouse's Grave at Kensal Green Cemetery
Grave Reference: 45456/187/2
Double grave and surround, tall slim headstone with a badly worn inscription that is almost indecipherable. The monument is located on the south side of the path, near the Crematorium.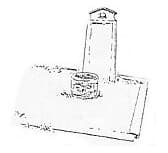 Sketch of the Waterhouse grave from a Friends of Kensal Green Cemetery Leaflet.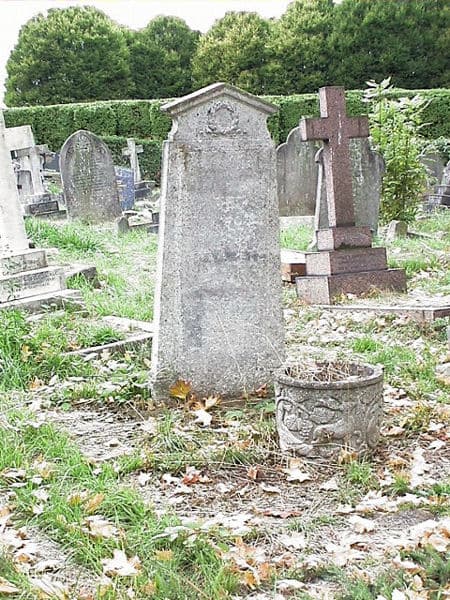 View of John William Waterhouse's grave with planter in front.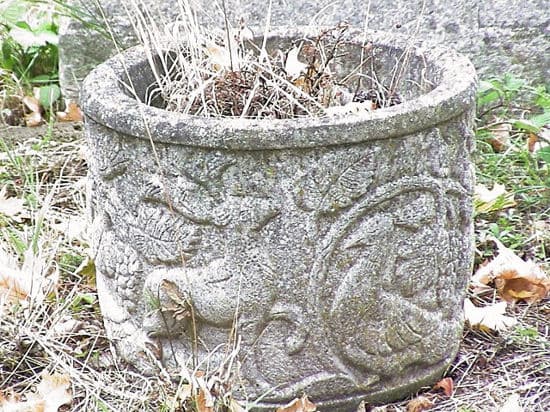 A closeup of the planter, carved with birds, deer and grapes.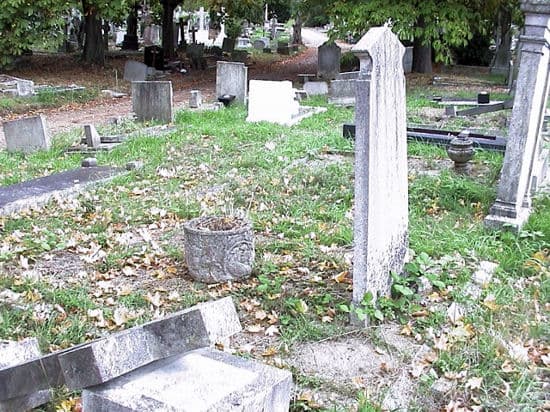 Side view of John William Waterhouse's grave.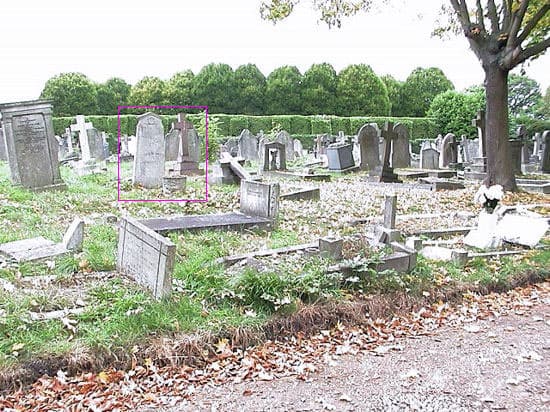 The Waterhouses' grave is outlined in a pink square.
The Funeral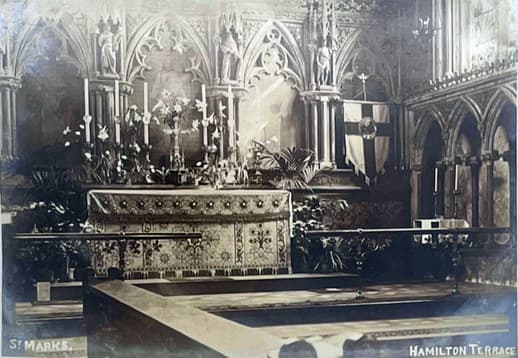 Interior of St Mark's Church, Hamilton Terrace. From a 1910 postcard.
The following text is taken from The Art and Life of JW Waterhouse, Anthony Hobson, 1980.
"He died of cancer and heart failure on 10 February 1917, aged nearly sixty-eight, with members of his family at hand. The notice of his death in The Times read:
"WATERHOUSE. On the 10th Feb at 10 Hall Rd, St John's Wood, after a long illness borne with great patience, JOHN WILLIAM (NINO) WATERHOUSE, R.A."
On the same day the Secretary of the Royal Academy sent the customary letter to Academicians announcing the death - his 'painful duty'.
The funeral service was held at St Mark's Church, Hamilton Terrace, and the burial at Kensal Green Cemetery. The list of those present, headed by Sir Edward Poynter, PRA, included among Waterhouse's patrons Sir James Murray; the Hendersons were represented by Lord Faringdon's brother Mr HW Henderson and his sister-in-law Mrs Brodie Henderson with Miss Henderson, and another collector present was Mr FM (later Sir Frederick) Fry.
Some artist friends and neighbours there were of long standing, such as Lance Calkin, who had moved into Primrose Hill Studios opposite the Waterhouses in the same year, 1885. From a few doors away at the corner of Grove End Road came Andrew Gow, RA, Keeper of the Royal Academy, with his wife. He was in his seventieth year, and other contemporaries were WW Ouless, RA and Seymour Lucas, RA. Still older members of the community included Briton Riviere, RA, and the watercolourist Edwin Bale, RI, a founder member and sometime Secretary of the St John's Wood Arts Club, then approaching eighty years of age. Among the younger Academicians and Associates were the sculptors Henry Pegram, ARA, and FW Pomeroy, elected RA in that year, and painters William Strang, ARA, Edgar Bundy, ARA, Charles Sims, RA, and AS (later Sir Arthur) Cope, RA, together with the sculptor Albert Toft from Clifton Hill and Herbert Draper from Abbey Road, whose popular classical subject pictures owed something to both Leighton and Waterhouse.
Esther Waterhouse lived on at 10 Hall Road for some time with the two maids and the Aberdeen. She was charming and kind-hearted, but not very practical in money matters. The sale of Waterhouse's remaining work did not take place at Christie's until 1926: meanwhile, she parted with various possessions and some pictures, often to sympathetic friends. Among her visitors was Connie Hyde, niece of Peregrine Feeney and a sister of Sir Charles Hyde, who recalled the holidays at Baggy Point and paid generously for some prints of Nino's work and the oil study Gather Ye Rosebuds While Ye May. Eventually, financial difficulties compelled her to leave the house for a hotel. During the bombing raids of the 1940s, being by then over eighty, she was cared for by a succession of friends and relatives including Mrs Donner and Mrs Somerville and died in a nursing home in Faversham in 1945."

Continue reading:
Obituary Overview
John William Waterhouse died on 10th February 1917 and was buried at Kensal Green Cemetery in northwest London. Although by 1917 Waterhouse's work had fallen out of fashion, and the country was in the midst of the Great War, several newspapers covered his death and printed obituaries.
Read more »
Restoring Waterhouse's grave
By the start of the 21st century Waterhouse's grave at Kensal Green Cemetery in north London was in poor condition and the inscription on the headstone was illegible. In 2008 the Friends of Kensal Green Cemetery started an appeal to raise funds to restore the grave.
Read more »