Biographical Sketch from 1885
A biographical sketch of John William Waterhouse published by the Illustrated London News (August 22nd 1885) on the occasion of Waterhouse's election as an Associate of the Royal Academy.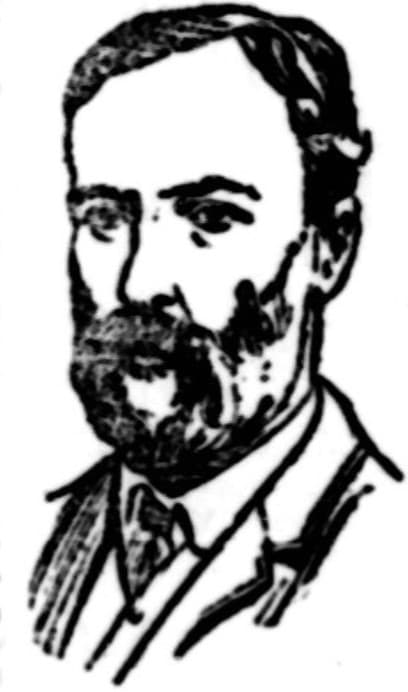 Sketch of JW Waterhouse
From an 1885 newspaper article
MR J.W. WATERHOUSE, A.R.A.
Mr J. W. Waterhouse, who is in no way related to Mr Alfred Waterhouse, the architect, elected at the same time to full membership of the Academy, has reached the Associateship at a far earlier age than most competitors for that honour.

He was born at Rome in 1849, but was brought at an early age to England. He was educated partly at Leeds, but, at an early age came to London and entered as a pupil at the Royal Academy.

His first works, however, "The Vendéen," "The Unwelcome Companion," and "Pygmalion and the Statue," exhibited at the Society of British Artists in 1873, showed the influence of sympathy with French art.

In the following year, he exhibited his first Academy picture, "Sleep and his Half-Brother Death"; and for a time seemed disposed to follow in the footsteps of Mr Watts; but subsequently forsook him as a guide in favour of Mr Alma Tadema.

Since 1874 he has regularly exhibited at Burlington House, his principal works being "Miranda" and "Whispered Words" (1875), "After the Dance" (1876), "A Sick Child in the Temple of AEsculapius" (1877), "The Remorse of Nero" (1878), and "La Favorita" (1879).

Classical subjects thenceforward seem to have occupied his attention; and of these the most noteworthy have been "The Household Gods" (1880), "The Favourites of the Emperor Honorius" (1883) and "Consulting the Oracle" (1884), in all of which a careful study of archaeology and history has been combined with bold drawing and rich colouring, to a degree attained by few of the followers of Mr Alma Tadema and his forerunner Baron Leys.

Source: Illustrated London News (August 22nd 1885)
The newspaper which printed the sketch of JW Waterhouse shown above on May 25th 1885 in its "Illustrated London Letter", was not too complimentary about him, stating that "his essays in the weird are occasionally more fantastic than impressive' but concedes that he had done "some interesting work".
The Royal Academy archives hold the letter of acceptance which Waterhouse wrote on 9th June 1885 from the Hotel D'Angleterre in Venice, Italy (RAA/SEC/4/136/1).
Continue reading:
Biographical Overview
Painter of classical, historical, and literary subjects. John William Waterhouse was born in 1849 in Rome, where his father worked as a painter. He was referred to as "Nino" throughout his life. In the 1850s the family returned to England. Before entering the Royal Academy schools in 1870, Waterhouse assisted his father in his studio.
Read more »