Rose Sketchley, biographer of JW Waterhouse
Some information about Rose Sketchley (1875-1949), an art critic who wrote about John William Waterhouse in 1909 (R.E.D. Sketchley, 'The Art of J.W. Waterhouse, R.A.', Art Annual (Art Journal Special Number), Christmas 1909). To this day, Rose is sometimes mistaken for a man due to using the initials "R.E.D." when publishing her work, or in correspondence with others.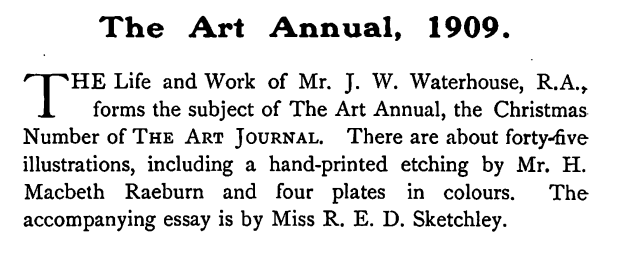 Advertisement for Rose Sketchley's 1909 article about J.W. Waterhouse.
Introduction
Rose Esther Dorothea Sketchley was born in Kensington, London on 17th May 1875. She was the second of three daughters born to Richard Forster Sketchley (1826-1901) and Lavinia Parker Marston of Tewkesbury (1838-1925). (Rose would later write an article about Tewkesbury for The Art Journal). Rose's sisters were Christina Jane Sketchley (1873-1965), and Philipa Lavinia Sketchley (1876-1910).
Richard Forster Sketchley
Her father came from a Newark family— his great-uncle Samuel Sketchley can be viewed in this portrait now owned by the National Trust—and obtained his BA degree from Exeter College, Oxford in 1850. In 1854 he was appointed Honorary Librarian of the Newark Stock Library. He was employed in aid of the Great Exhibition of 1862 by the South Kensington Museum, and two years later became Assistant Keeper of the Dyce and Forster Collection at London's South Kensington Museum (now the Victoria and Albert Museum, or V&A). He held this position until his retirement in 1894. Richard also contributed to Punch and "and was proud of aiding its humour".
Richard moved to the south coast of England settling at Sutton Seaford, a few miles east of Rottingdean where the Pre-Raphaelite artist Edward Burne-Jones had a home. Richard died on 16th April 1901 at Greencroft Cottage, Hindover Villas, Sutton Seaford, Sussex.
He collected materials for a record of the lives and deeds of remarkable men throughout the country, but this he did not complete, for his work was done, and having taken a morning's walk, he sat down to dinner, his head fell forward, and he was gone.
R.E.D. Sketchley - Art Critic
Rose obtained a School teacher's Music Certificate from the Tonic Sol-fa College, Forest Gate, in 1894. Her father possibly helped her become an art critic as he was very well-connected, and in 1888 had published an article in The Art Journal, one of the leading art periodicals of the day.
Rose worked as an art critic from roughly 1895 to around 1910 or 1911. Her work appeared in several art periodicals, mainly The Art Journal, and she also published a couple of books which were based upon her previously written articles. She corresponded with many artists for her articles. However, we don't know if she interviewed John William Waterhouse in person at his studio at 10 Hall Road, or if their communication was by correspondence only.
Her article about Waterhouse was insightful and well-received:
The Christmas Monograph of the Art Journal most adequately deals with the work of Mr. John Waterhouse, R.A. With a large public the refined and charming art of this painter is much prized. This Monograph, most sympathetically written by Miss R.E.D. Sketchley, whose recent contributions to the Art Journal have made a valuable feature of that magazine, is well and fully illustrated, in tone and colour. Thus it stands for the life-work of this graceful and accomplished artist...

Source: 'The Outlook: A Weekly Review of Politics, Art, Literature, and Finance, Volume 24' (1909)
Waterhouse's later biographer Peter Trippi has noted the importance of her discussion of "the last poem of living paganism".
Around the time of her sister's early death in 1910 (Philippa Sketchley, a teacher), Rose appears to have stopped publishing her articles, although she still gave her profession as 'art critic' in the 1939 census.
Art Collector
Rose was a collector and the Royal Academy archives list three letters from Rose in which she corresponds with George Clausen in 1921 and purchases some pictures from him. (The transcripts of these letters by the Royal Academy assume that 'R.E.D.' was male).
She was friends with Frank Rinder, an art critic for the Glasgow Herald. He commissioned a calligraphic lettering work for her in 1930. After Rose's death in 1949 her sister Christina donated a work by William Blake.
Final Years
Rose did not marry and lived with her mother until the latter's death in 1925. By the early 1930s Rose had moved to a house in the Vale of Health which backed onto Hampstead Heath, London. Her immediate neighbours included the Portuguese actress and Suffragette Sime Seruya.
From around 1939 until her death in 1949 at the age of 74 Rose lived with her sister Christina in Fulham. Christina worked as a social worker (General Lying-In Hospital, a maternity hospital), and later was a Councillor for the Maternity and Child Welfare Committee. In 1939 she was appointed by the Lord Chancellor as a Justice of the Peace for the county of London. Christina's career culminated after Rose's death when she was honoured with an M.B.E. for her "political and public services" to Fulham in 1959. Also unmarried, she died in 1965.
List of Publications
(research in progress...)
| | | |
| --- | --- | --- |
| Title | Publication or Publisher | Date |
| Alexander Smith, A Life Drama, City Poems | ? | 1901 |
| English Book Illustration of To-Day: Some Decorative Illustrators | The Library | January, 1902 |
| English Book Illustration of To-Day: Some Open Air Illustrators | The Library | April 1902 |
| English Book Illustration of To-Day: Some Character Illustrators | The Library | July 1902 |
| English Book Illustration of To-Day: Some Children's Books Illustrators | The Library | October 1902 |
| Coronation Weaving | The Art Journal | Coronation Number, June 1902 |
| Some British Illustrators of the Bible. Blake's Illustrations of the Book of Job | The Art Journal | 1903 |
| English Book Illustration of To-Day | book | 1903 |
| Watts 'Little Books on Art' | Book | 1904 |
| The Royal School of Art Needlework | The Art Journal | 1904 |
| Review of RA Winter exhibition (Frederick Sandys et al) | The Art Journal | 1905 |
| Watts at Burlington House | The Art Journal | March 1905 |
| Buckinghamshire Lace | The Art Journal | June 1905 |
| Haslemere Arts and Crafts | The Art Journal | 1906 |
| Something about Whistler | Kunst and Kunstler, v4 | 1906 |
| Book Bindings | The Art Journal | 1907 |
| Metalwork and Jewellery | The Art Journal | June 1907 |
| Students Arts and Crafts | The Art Journal | Sept 1907 |
| Some Modern Embroideries | The Art Journal | November 1907 |
| The Art of the Scribe | The Art Journal | 1907 |
| Austin Osman Spare | The Art Journal | 1908 |
| The Art of J.W. Waterhouse, R.A. | Art Annual (Special Number of The Art Journal) | Christmas 1909 |
| Portraits by William Hogarth | The Art Journal | 1909? |
| Mary Pownall: A Distinguished Woman Sculptor | The Art Journal | 1909 |
| London Exhibitions | The Art Journal | ? |
| Loan Exhibition | The Art Journal | ? |
| Holbein as Goldsmith's Designer | The Art Journal | June 1910 |
| 'Benedicite omnia opera': three windows for Colmon Ell Church, by Louis Davis   | Art Journal? | 1910? |
| 2nd edition of Watts | | 1912 |
Request for Information
If you have additional details about the life and work of Rose Sketchley, I'd love to hear from you.
Continue reading:
J.W. Waterhouse's Rape of Persephone
Reproduced here is the full text of a presentation given by art historian and Waterhouse biographer Peter Trippi at the 2005 Annual Meeting of the College Art Association in Atlanta, Georgia (February 16-19, 2005). The presentation was part of a session chaired by Alicia Craig Faxon called The Pre-Raphaelites and the Mythic Image.


Read more »