The Lady of Shalott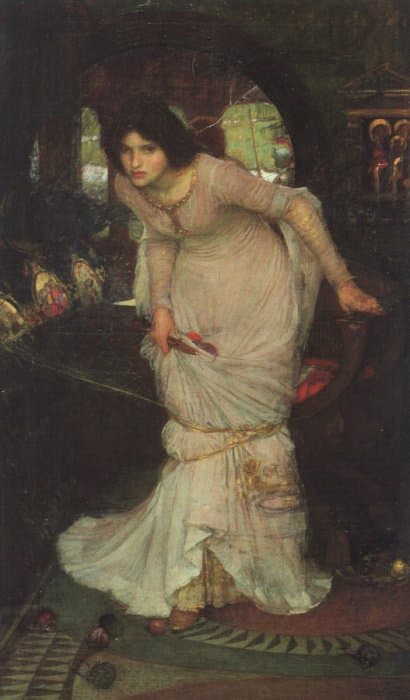 Date created: 1894
Exhibited at the Royal Academy in 1894 (No. 245). Its entry in Academy Notes of 1894 reads:
"Tennyson's heroine is working, embowered within the "four gray walls" on the silent isle of the river that flows down to "fatal Camelot". She sits solitary, weaving her magic web by night and day. In the mirror at her back the landscape, the sunshine, and the busy river are reflected. To her left is a quaint oratory with statuettes of the Virgin and Child, lit up with the pale light of tapers. Silken balls and worsted strands are littered in her lap and on the floor. It is the moment when Sir Lancelot rides along the riverside in burnished armour. As she looks down to Camelot, and the curse comes upon her, the mirror cracks, the loom breaks up in ruin, and all the work is undone."
This painting is based on the poem The Lady of Shalott by Alfred Lord Tennyson.
It illustrates the lines:
She left the web, she left the loom,
She made three paces thro' the room,
She saw the water-lily bloom,
She saw the helmet and the plume,
She look'd down to Camelot.
Out flew the web and floated wide;
The mirror crack'd from side to side;
"The curse is come upon me" cried
The Lady of Shalott.